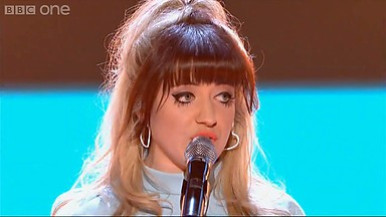 The BBC is keen to create a star from its primetime show after last year's winner Leanne Mitchell, mentored by Sir Tom Jones, bombed in the charts.
McFall's mentor Will.i.am has high hopes for his protegee. "There's something new in the universe. Remember like the golden child...the second coming. Out of every single person that I've seen from last year to this year, Leah is the best artist," he told the Sun.
"She's quirky, she's unique. There have been great singers but she has the greater shot to have a career."
The 23-year-old has yet to attain the stratospheric egos of many in the showbiz world. She said modestly: "I sing weird, dress like a grandpa and look like a furby!"
The finalist already has around ten self-penned songs she hopes to release. "Regardless of whether I win, I'm excited about what happens next. I hope on Sunday I'll be straight in the studio," she said.
Her version of I Will Survive is already at number eight in the official charts. McCall could have her first number one immediately, as songs from Saturday night's final will be released for download straight after the show.
However, the pressure of being in the spotlight is already affecting McCall. She broke down in tears during rehearsals and couldn't decide which song to perform for the final.
However, she recovered enough to enjoy a trip to Cannes with her mentor Will.i.am, who flew her out in his private jet.
The live final of the second series of The Voice UK airs on Saturday 22 June at 7.15pm on BBC One, decided by a public phone vote. McFall will go up against fellow finalists Matt Henry, Andrea Begley and Mike Ward.
Michael Bublé and Dizzee Rascal performing 'Goin' Crazy' (featuring Robbie Williams) are also set to make guest appearances.
Watch Leah McFall sing I Will Survive in The Voice UK 2013 TV show