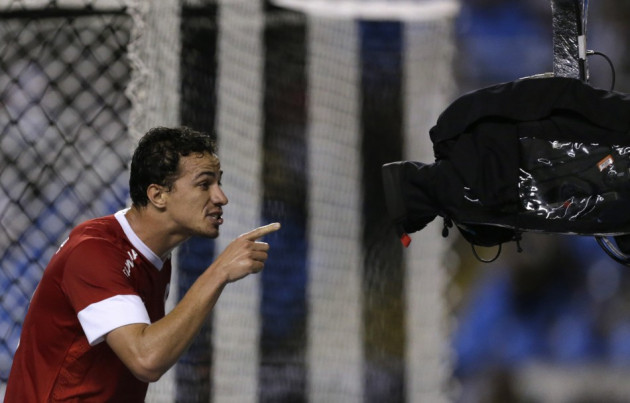 Internacional striker Leandro Damiao would still be open to a move to Tottenham Hotspur despite the club's lack of Champions League football next season, according to his agent.
The Brazilian international has long been considered the man capable of solving Tottenham's shortcomings up front over the past year, having been persistently linked with a move to Andre Villas-Boas' side during last summer's transfer window and back in January.
But after missing out on a top four finish and the opportunity to play in the Champions League next season to rivals Arsenal, the club's hopes of attracting big names this summer have been severely hampered.
Despite the seemingly weakened appeal of a move to White Hart Lane, Damiao's agent has assured Tottenham that the forward could yet decide on a move to the club, with the striker's World Cup ambitions taking precedence over everything else.
"With the improvement he has been showing I think he is mature enough to leave, he is ready to play in Europe," Vinicius Prates, Damiao's agent told Zero Hora, Sky Sports report.
"It if was just a matter of money, he would have left a long time ago. Leandro Damiao's dream is to play the World Cup.
"If he leaves, it will be to a big club, he is under contract until 2016 and the club gives him every condition for to achieve that dream.
"Our idea is to always work with a big club, all players dream of playing in the Champions League. But Tottenham are an important club in London, we can't rule them out."
Napoli and Marseille have also been linked with a move for the 23-year-old forward, both of whom could offer him the chance to play in Europe's premier tournament next season.
A bid from the Serie A side may entirely depend on the future of Edinson Cavani however, who remains persistently linked with Manchester City and Chelsea.
Meanwhile Marseille, who are faced with the task of challenging billionaire-backed Paris Saint Germain and Monaco next season, recently admitted they are likely to be priced out of any move for Damiao, with the club's sporting director Jose Anigo suggesting the club may have to focus on home-grown players.
Tottenham's shortcomings last season could cost them in their efforts to lure Barcelona forward David Villa to White Hart Lane, however.
Spain's all-time leading goal scorer could be set to leave the Nou Camp with both Arsenal and Spurs keen on the 31-year-old, although the forward insists he will wait until after the Confederations Cup to decide upon his future.