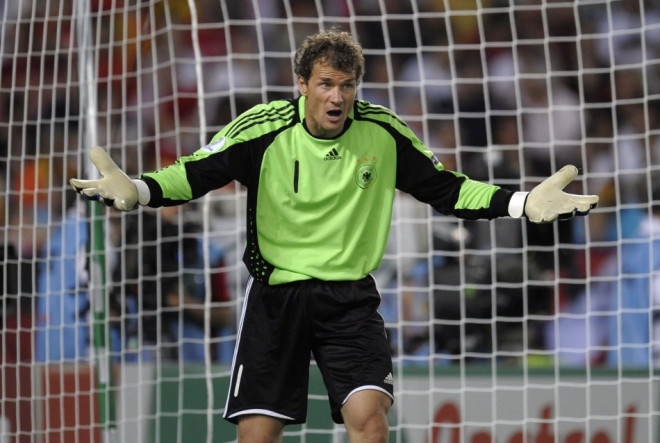 Arsenal goalkeeper Jens Lehmann has revealed that he is sceptical of Arsene Wenger's credentials to take the Gunners forward.
The Frenchman has failed to live up to expectations over the past few seasons, failing to win a trophy in over nine years, something which Lehmann believes is not befitting a manager in charge of one of the greatest teams in Europe.
Lehmann believes that the Frenchman has to appoint a sporting director to take the burden off him if he has to win the Premier League or the Champions League again in his reign.
Lehmann was part of the squad prepared by Wenger, which went a whole season unbeaten in 2003/04, but their shift to the Emirates has seriously weakened them in all quarters.
The Frenchman is yet to sign a new contract with the Gunners, which expires this summer, but has insisted that he will stay beyond the end of this season and lead them to greater things in the future.
Lehmann is unconvinced with his tenure and believes that Arsenal need a change to reposition them as a threat in Europe.
"Is Arsene still the man to make Arsenal successful? I'm not sure," Lehmann told Goal.com.
"I think in the current conditions it will be very hard for them to win something. They have to make changes.
"Arsene represents the club as no other [manager in world football]. Sometimes the structure has to be not only on two shoulders, or one man, but sometimes you need to have a couple of people who define, control and monitor the progress of the club and the philosophy, particularly the clubs THAT are always growing and the demands on managers are growing.
"If you have to do that always by yourself I doubt you can be successful.
"I think [chief executive] Ivan Gazidis is doing a great job there. But Gazidis came in when the times had changed a little bit.
"David Dein was supporting Arsene in terms of football, his valuation of players. At the time Arsene had the advantage of knowing the French market fantastically well.
"The markets have changed – the supply chain has changed. A club like Arsenal, who is majorly dependent on Arsene's view on football and philosophy and detection of new players, that is not enough anymore," he concluded.