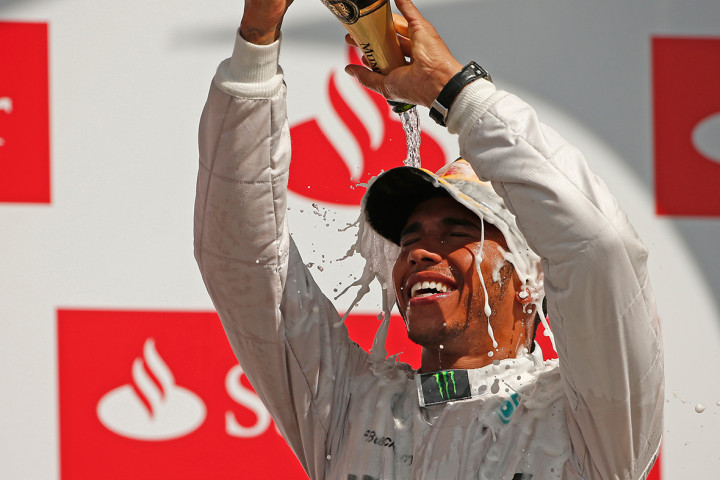 Mercedes F1 driver Lewis Hamilton feels like he has been on the 'back foot' the entire season, but is now ready to push on and fight teammate Nico Rosberg all the way to the end of the championship.
Hamilton, who suffered two retirements earlier this year, saw his friend and colleague Rosberg suffer the same fate at Silverstone during the British Grand Prix, while he went to take the win. It was the Briton's fifth win of the season and despite that, he finds himself behind his German teammate in the battle for the Drivers' Championship.
However, last weekend's result has lifted his spirits and brought him within four points of his team mate.
"Winning at Silverstone was just an incredible feeling - for myself, the team and the fans, I couldn't have asked for more," Hamilton said, as quoted on Sky Sports.
"I feel like I've been on the back foot all year, only briefly leading the Championship despite taking the wins I've had, so to have got myself just about level was exactly what I needed," he said.
The 29-year-old former F1 World Champion is now hoping for a trouble free second-half of the season. He is also looking forward to the on-track battles with Mercedes teammate Rosberg.
"It's almost a fresh start heading into the second half of the season and it's going to be a really close battle between us. Of course, you never want to see your team-mate fall away, but hopefully we can now strike a line under the retirements and push each other all the way on track," he said.
The next race, which is scheduled for 20 July at the Hockenheim circuit in Germany, might see a change in the Drivers' Championship leader board if Hamilton wins. However, the former McLaren driver is targeting a win for a reason, not completely connected to the championship standings.
"I've won twice before in Germany, but not at Hockenheim since way back in 2008. The aim is to change that this weekend," Hamilton added.