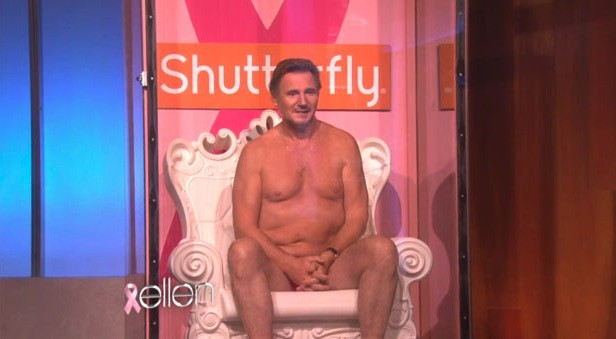 Hollywood actor, Liam Neeson, has stripped off on national TV for charity.
The 60-year-old Taken star received a drenching in a gung-tank on the Ellen DeGeneres Show, to raise money for breast cancer.
At one point during his appearance on the US chat show, a disrobed Neeson sat down on a chair that gave an optical illusion that he was totally naked.
Having been given the option of boxers or tiny pink speedos by DeGeneres earlier in the show, Neeson opted for the more the daring number - much to the approval of the cheering audience.
A female audience member was then pulled on stage to take part in the game which involved her throwing balls at a target, with $10,000 going to a cancer charity if she was successful.
Raising the stakes the Batman Begins favourite told DeGeneres: "If I take the robe off does the 10 thousand become 20 thousand?"
She replied: "I'll make that happen if you take that off and go sit in that chair."
Despite his offer to go commando, the host insisted that he keep the speedos on as teh show risked getting fined.
The video of Neeson's hilarious appearance has since gone viral online.
One impressed viewer wrote: "Liam Neeson..... what a class act! His actions show what a wonderful person he really is!"
Another said: "Good on him :-D cant help but love him"
Watch the Video Here: