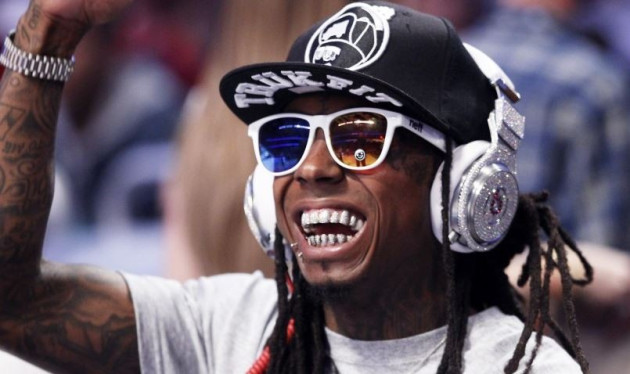 American hip hop artist Lil Wayne has sparked outrage after walking over the American flag while shooting for his new music video - God Bless Amerika - in New Orleans.
In the video posted by a YouTube user Volvodea1, the 30-year-old (real name Dwayne Michael Carter) can be seen rapping with a huge American flag hanging as a backdrop. The flag is then dropped to the ground, while Wayne continues singing and stepping on the country's flag repeatedly.
"My country, 'tis of thee/Sweet land of kill 'em all and let 'em die/So god bless America, this godless America," the song's lyrics states.
Angry Twitter users began flooding the social networking Web site, discussing the rapper's disrespect towards the flag.
"@SolisWild Lost respect for Lil Wayne. How dare u disgrace the American flag by putting it on the ground and walking all over it."
"@TimKennedyMMA I would do almost anything to fight Lil Wayne. Desecrating the American flag is a sure way to piss me off."
"@notemilymarino Lil Wayne stomped all over the American Flag ...... K. Maybe he should keep in mind this country made him rich."
"@BijouBAKSON Publicity stunt or he is mad? Checking out "Disrespectful? Lil Wayne Tramples On US Flag While Filming""
"All Americans should treat (the flag) with respect," John Raughter, an American Legion spokesman told the New York Daily News, "It is the American flag that is draped across the coffins of our fallen heroes when they come back from war. In fact, any veteran can have a flag on their coffin. As such, it's entitled to the highest respect."
Lil Wayne has already had a few problems with his percieved disrespect of American history and culture. In May, soft drinks giant Pepsico said they were cutting all ties with the rapper, after a crude reference to civil rights martyr Emmett Till. In its report, the New York Daily News quoted a company statement as saying: "[the] offensive reference to a revered civil rights icon does not reflect the values of our brand."
Sarah Cunningham, a publicist for Lil Wayne, denied the development and said the split was due to "creative differences". "That's about all I can tell you at this time," she said.
Meanwhile, check out the video of Lil Wayne trampling on the American flag
[Video Courtesy: Volvodea1/YouTube]