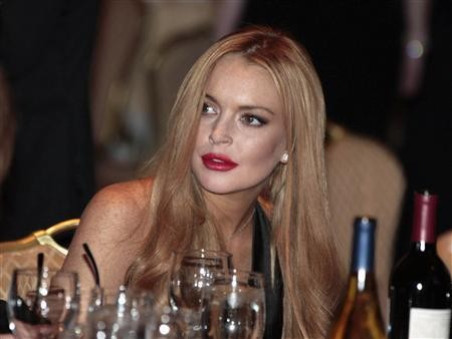 Lindsay Lohan has allegedly been attacked by a man in a New York hotel room following a dispute over mobile phone images.
According to gossip site TMZ.com, the 26-year-old invited the congressional staffer back to her suite at Manhattan's W Hotel after partying at a nightclub with friends.
But things are said to have turned sour when she discovered that the 25-year-old, identified as Christian LaBella, had taken dozens of photos of her on his mobile.
The Mean Girls star told police that after she confronted him and asked him to delete the images, he attacked her, choking her and throwing her to the ground.
Lohan's spokesman Steve Honig said that Lohan suffered minor injuries in the scuffle and that the assailant was arrested.
"Lindsay was the victim of an assault," Honig said. "She does not face any charges."
However a police spokesperson told Reuters that "nobody's been arrested, there's no assault. Reports were taken and both parties were able to give their account of what took place."
LeBella was initially charged with misdemeanor assault, but the charge was later dropped.
The incident comes days after Lohan was arrested in New York for an alleged hit-and-run outside a nightclub.
She was charged with leaving the scene of an accident, a misdemeanor.