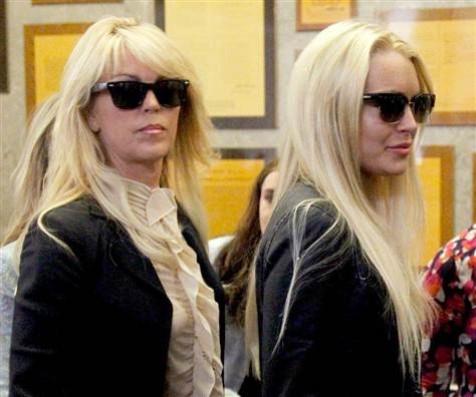 Lindsay Lohan's mother has claimed that her ex-husband Michael abused and raped her while they were married.
In an interview with The New York Daily News, Dina Lohan, who also manages her daughter's career, alleged that the Mean Girls Actress is "screwed up" as a direct result of watching her father physically abuse her mother for years.
Dina, who divorced Michael in 2007, claimed that their 22-year marriage was pockmarked by cheating and domestic violence, and on one occasion he even raped her in her parent's home while they were separated.
She insists that she stayed in the marriage for the sake of the children, but finally decided to speak out after seeing an old picture of herself holding baby Lindsay and sporting a blackened eye.
"Michael beat the hell out of me," reality star Dina said, armed with police and medical reports to back up her claims.
"When Lindsay saw the photo, she was furious. She said, 'Tell the world! Talk about it!'"
According to the 50-year-old, her ex-husband's abuse was fuelled by his drug addiction.
"Michael was addicted to cocaine, like most stockbrokers back then. He had a lot of bad stuff going on," Dina said.
However, Michael has refuted all of his ex-wife's accusations and slammed her claims as "evil lies".
The 52-year-old said that, although he remembers the day he is accused of raping his former wife, the sex was consensual.
"How can you rape a person when they're on top of you?" Michael asked.
"She's bringing this up now because she's drinking and partying with Lindsay," he continued. "And she keeps robbing Lindsay. She is the devil."
Dina made the claims ahead of Lindsay's scheduled appearance at a New York City court, as a result of her arrest in November for allegedly punching a woman at a nightclub.