Luke Shaw chosen ahead of Ashley Cole
Ben Foster, Rickie Lambert and Frank Lampard all included
Jon Flanagan and John Stones on standby list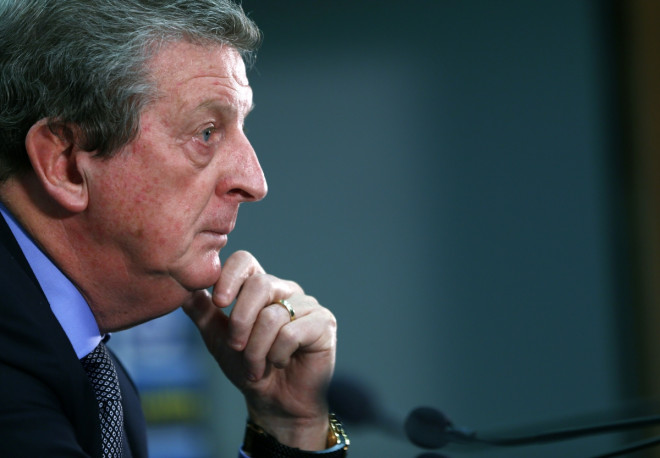 15:00: Well that's all we've time for from Luton. Roy Hodgson has surprised a few with his squad today, with a good blend of youth and experience. Could England spring a shock in Brazil? We you can as short as 25/1 for them to win the tournament this summer. Worth a quid isn't it? Until next time, goodbye.
14:55: And with that, Roy Hodgson takes his leave. One or two interesting lines to emerge from that briefing. The general consensous from Luton is Hodgson has selected a young, exciting squad for the World Cup and one that is somewhat out of character with his reign so far.
14:50: Roy Hodgson on deliberating on the squad: "It's changed through injury. We lost Theo, Jay Rodriguez and Kyle Walker and Andros Townsend, four players very clesrly in our thught. The large body of the squad has been clear in our mind for a long period of time. There has been no knee-jerk reaction."
14:46: Roy Hodgson on public perception: "I would be a little bit surprised if we are really at that level. It doesn't really matter, it would only really matter if the players believed it. They think they can have a very good tournament. One thing I do know is they are not goig to be put off by countries not believeing they're as good anymore."
14:42: Roy Hodgson on Steven Gerrard: "Very disppointed for him. I was very sad that he feels himself responsible for a mistake which was a moment which happens in a game of football. He slipped over in a game and they scored. It could have been the other way around. I am very philosophical about these sorts of things, Steven Gerrard wil be good as he ever was at this World Cup."
14:40: Roy Hodgson on Euro 2016: "This tournament means everything to us. I will refute any claims that any players are selected because of 2016. I think they can do well. If one of things that we got out of it is that some of the players have grown up, if they continue on the path they're on at the moment and in two years time they'll be evern stronger."
14:35: Roy Hodgson on Ross Barkley: "He's a very, very exciting player. If he can contiue at that level he has a fantastic future ahead of him. I hope people are realistic of the expectations of him. He could be a very valuable member of the team. I don't wantr to put him under pressure."
14:30: Roy Hodgson on World Cup hopes: "Yes of course I believe we can win the World Cup. They're empty words and I am certain Scolari is saying they can win it. Why should we say otherwise. If we're going to win if we're going to have to play well. We're right to have some degree of optimisim. We're going to try not to let people down."
14:27: Roy Hodgson says Phil Jones is the only injury doubt for the World Cup. John Stones will be his direct replacement if he doesn't recover from a should problem which Hodgson expects will see him return in three weeks.
14:23: Roy Hodgson on picking young players: "The balance is still quite good. It would be wrong to focus totally on those who are young and inexperienced because everyone is until they get the chance. I don't set out [to take young players]. They've really imposed themelves and their ability on me. I am sure in October if I had had to choose a squad it would have looked somewhat different."
14:19: Roy Hodgson on Luke Shaw: "It was an unbelievable hard decision. Luke Shaw had an unbeliebable season. It's one player who already has 107 caps and another who has many many more caps to come. It was a hard job to call Ashley. Everyone knows what Ashley Cole can do."
14:14: Roy Hodgson has arrived at his Luton press conference. Fancy many of the questions will regard Ashley Cole, Frank Lampard and Andy Carroll at this stage.
14:12: So what should we immediately take from that announcement? Frank Lampard is probably the highest profile inclusion in the squad after having a difficult season with Chelsea. Elsewhere, the headlines from the standby list where uncapped pair John Stones and Jon Flanagan are both called up. Manchester United pair Michael Carrick and Tom Cleverley have to contend with a place on the standby list too. Finally, Ross Barkley can breath a huge sigh of relief, as he is included in a nine-man midfield.
14:03: And here we are.....
Goalkeepers: Joe Hart (Manchester City), Ben Foster (West Bromwich Albion), Fraser Forster (Celtic).
Defenders: Leighton Baines (Everton), Gary Cahill (Chelsea), Phil Jagielka (England), Glen Johnson (Liverpool), Phil Jones (Manchester United), Luke Shaw (Southampton), Chris Smalling (Manchester United).
Midfielders: Ross Barkley (Everton), Steven Gerrard (Liverpool), Jordan Henderson (Liverpool), Adam Lallana (Southampton), Frank Lampard (Chelsea), James Milner (Manchester City), Alex Oxlade-Chamberlain (Arsenal), Raheem Sterling (Liverpool), Jack Wilshere (Arsenal).
Attackers: Rickie Lambert (Southampton), Wayne Rooney (Manchester United), Daniel Sturridge (Liverpool), Daniel Welbeck (Manchester United).
Standby: John Ruddy (Norwich City), Jon Flanagan (Liverpool), John Stones (Everton), Michael Carrick (Manchester United), Tom Cleverley (Manchester United), Andy Carroll (West Ham United), Jermain Defoe (Toronto FC).
13:57: Members of the media have been escorted to the press conference room where Roy Hodgson will deliver his World Cup squad. Standing room only at Vauxhall HQ I can tell you.
13:38: We're about 20 minutes or so away from learning who Roy Hodgson has entrusted with traveling to Brazil this summer. We already know that Ashley Cole will miss out and has retired from international football, but who else will be culled? At the moment, the highest profile omission appears to come in the form of Ross Barkley, who desite a terrific season with Everton, could miss out to Frank Lampard.
13:30: Barely 24 hours after the end of the Premier League season, we can turn our attention firmly to the World Cup with England squad announcement ahead of the summer finals in Brazil. Roy Hodgson will confirm his 23-man squad plus seven standby players this afternoon, but who will be selected?