Andre Wisdom says he has always been inspired by Jamie Carragher, with the Liverpool youngster revealing he has taken training advice from the stalwart on many occasions throughout his career.
This season has been a successful one for Wisdom, with the 19-year-old featuring for the Reds 18 times so far as he looks to prove to Brendan Rodgers that he can make a permanent step up to the senior side.
And as Carragher plans to retire at the end of the season, Wisdom has admitted that in his time at Liverpool, he has often turned to the 35-year-old for guidance as he looks to improve.
"I was in the under-16s," Wisdom told the Liverpool magazine. "I remember Carragher taking some of our sessions as part of his coaching qualifications.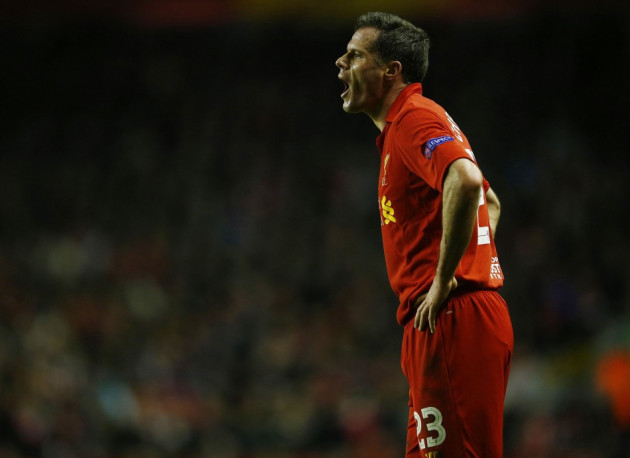 "From there I progressed through the ranks. To now be playing with him is great. I learned a lot from him back then and I'm still learning a lot from him now.
"He's still coaching me in training. In fact, I think he coaches everyone. He passes on so much information that he's almost doing the job of a coach already."
One of the main elements Wisdom has had to learn in his step up from the Liverpool youth side has been dealing with the flack from the opposition.
And the defender says he has quickly gotten used to handling any players who give him a hard time on the pitch.
"In each of the games I've played someone has tried to wind me up or intimidate me," he explained.
 "It doesn't work because I can look after myself. I enjoy giving banter back too.
"When I was younger my physical attributes would sometimes get me out of trouble. In the Premier League you can't rely on those as much because a lot of the players are big, strong and quick. You have to be good both technically and tactically. Those are areas I'm always working on."
Wisdom also insisted that he would play any position to continue making a contribution to the Liverpool squad.
He said: "A lot of people have asked if I'll play centre-back in a few years' time. I just want to be on the pitch. Honestly, I'll play anywhere. I played right-wing for the U18s and I could play in goal if I had to."