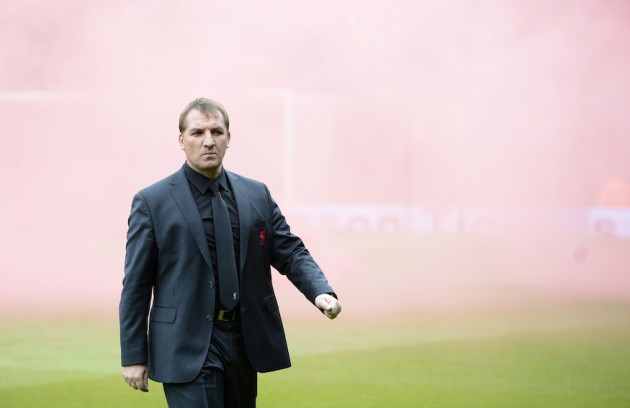 Brendan Rodgers has insisted that Harry Wilson is not yet near the standard of the Premier League as the Liverpool youngster receives wide praise for his recent performances.
Wilson was included in the Wales squad for their final World Cup qualifiers and the 16 year old had the chance to take to the pitch for the side against Belgium. He has received praise from Chris Coleman amongst a host of pundits and some have been calling for him to be handed a chance for the Liverpool senior squad.
But Rodgers had a completely different opinion on the teen insisting he has a lot of work to do before he can count himself amongst the likes of Steven Gerrard and Luis Suarez.
"He's not near the Premier League," Rodgers said, according to ESPN. "I was surprised, to be honest. Wales obviously had a lot of injuries.
"He's a very talented player, who knows he'll have a great opportunity here if he continues to develop. But in terms of him becoming a Premier League player, it's important that we stay calm and let him develop at his own rate."
Rodgers then went on to send a stark warning to his other younger players insisting that just because they play for the Merseyside club doesn't mean they can easily join a competitive side let alone be included in Liverpool's best at present.
"With all due respect, some of the young players aren't good enough," he explained. "Everyone thinks that because you're at a top club and you've got some good young players, then they can just walk into a League One team or a Championship team. It doesn't work like that.
"I supervised a group at Chelsea where we had some wonderful young players. But it's a harsh reality. It's not all bright lights and the Premier League. It's a tough world.
"That's always the way I've looked at it with the young players. Of course, we want them to go out and play. But they've got to be good enough to go and play. If they're not, then they won't. It's as simple as that.
"You hope you can put them at clubs where they have a similar philosophy, with a manager who can understand a young player. That's something we've always tried to do with our youngsters.
"Sometimes if you're at a big club, you're not getting an opportunity, you need a career outside the club before you get a career in the club - unless you're ultra-talented."
Liverpool have placed great emphasis on their younger players since owners Fenway Sports Group took over the club and Rodgers has been known to hand the more inexperienced players a chance to impress on the big stage.
But equally he appears to value players staying humble and as Wilson's stock continues to grow he will be concentrating on keeping the winger grounded in the Liverpool youth academy.