Daniel Sturridge has thrown the first proverbial punch in the build-up to the derby between Liverpool and Manchester United, with the Reds' signing claiming that he is playing for the biggest club in the country.
Liverpool and United's rivalry dates back to the beginning of football itself, and though the Red Devils now have the edge over Brendan Rodgers' men in terms of domestic titles, Reds fans are quick to point out that when it comes to being European giants they are still unbeaten by any English opposition.
United are currently top of the table and seven points clear of second-placed Manchester City; a win over Liverpool is of the upmost importance not only for their own pride but to keep the advantage in the title race as the season hits the business end.
But Sturridge doesn't have to think twice over which he thinks is the bigger club, with the striker claiming it is indeed the place he has called home for the last week.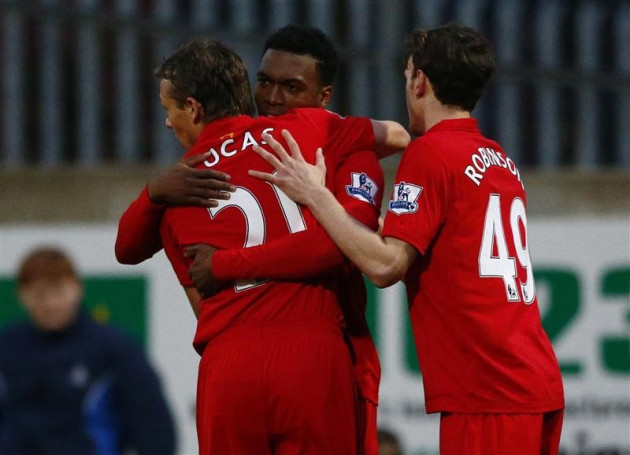 "It is the biggest club I have ever played for," he told Liverpool's official website. "In the Premier League, there is no bigger club than Liverpool."
He also expressed his gratitude at being handed the opportunity to play for a club that can boast such a history, saying: "I thank the boss for giving me an opportunity to play for a club like this and I thank God for making it possible.
"For the manager to pay money for me and to have faith in me and show everybody around the world that he is prepared to take a chance on me, I don't think I'll ever be able to repay him for that.
"As a young player, when you play for big clubs you can sometimes get caught up in it and you never get another opportunity to play for another big club.
"So I'm grateful the manager has given me this chance and that he believes in me. I'm just glad to be here."