John Arne Riise has admitted that he's feeling a bit more anxious than usual, as he prepares to make a return to Liverpool for the first time since the left-back left the club in 2008.
Riise made over 200 appearances for the Red Devils during eight years with the side, but moved to Roma after he was replaced by Fabio Aurelio, and increasingly struggled for game time as a result.
After three years at Roma, he made the move to Fulham, and now as the Cottagers prepare to face Liverpool in one of their final three fixtures, Riise has revealed that he will be feeling emotional about returning to Merseyside.
"It was one of the first games I was looking for because I always wanted to come back," he told the official club website.
"Now, I'm going to be playing against them and it's emotional.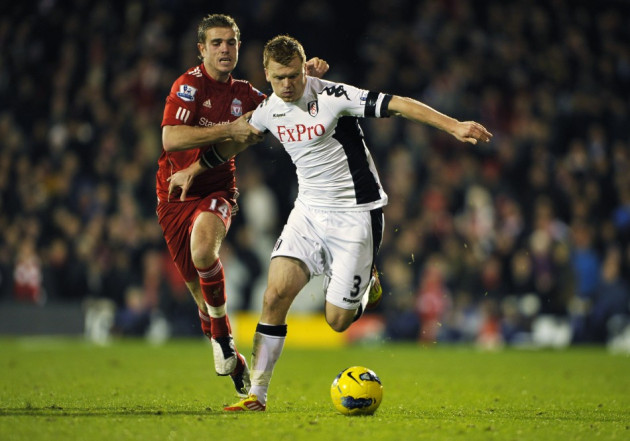 "I'm feeling a little bit - not nervous - but it's tickling a little more than usual, so I'm looking forward to it."
Fulham are currently ninth in the Premier League table, and should they win tonight, they'll be equal on points with Liverpool and pushing Everton hard in seventh place.
And though Riise will be feeling emotional on his return to Liverpool, the 31 year old is still intent on scoring against them and bringing more pain on the Reds, who have had a disappointing season in the league.
He explained: "I know the fans and some people are wanting me to score. Believe me, I do as well.
"I've been very close and sometimes you need a bit of luck for them to go in.
"Because, it's not like I'm shooting from five yards. I have to shoot from 30 yards and things have to happen. Maybe it can happen at Anfield."
Both Fulham and Liverpool will be working hard to create a decent finish to the season, and Riise knows that this will make the tie that much harder.
"We always play some good football away from home as well but we haven't got the results we maybe need or deserve," he said.
"So, we're going into the Liverpool game really confident and hopefully we can play good football and get something out of the game.
"But it's a tough place to go to. They want to improve on their league position as well, so it won't be easy."