Luis Suarez, it's been fun. The diving that you did or didn't do, depending on whether we spoke to you or Brendan Rodgers. The racist remarks you did or did not make, depending on whether we spoke to you at the time of the incident, a few months after or when you were mistranslated by the South American media. And then there was all the biting, we might have missed it when you were in Holland, so you made sure we didn't miss out on any of the fun this time.
This summer, Suarez may as well put a 'for sale' sign on his forehead, and walk door to door around Europe with a cheap suit and dodgy looking suitcase, hoping to convince just one buyer he's worth a punt. Media reports that Bayern Munich are showing an interest? Sure, I'd be open to that. Real Madrid, why I couldn't say no! Except, oh wait, I hate the media, why am I telling you these deep dark secret desires of mine again???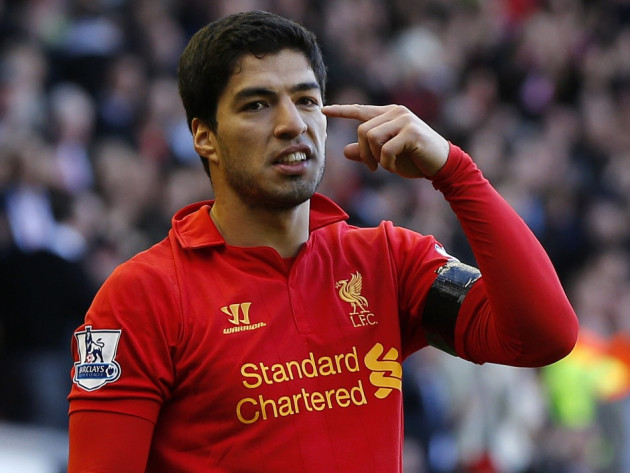 The Premier League will no doubt be a poorer place without Suarez's antics, and like many revisions of history, the more serious misdemeanours (like racism) will be forgotten amongst the almost-novelty like hilarity of a player actually thinking, while up for English football's highest awards, that it was ok to use biting as a defence mechanism on the pitch.
But if he leaves, just as when Mario Balotelli departed, others will come to fill the back pages and give us reasons to talk and tweet in horror at their actions. And then we can all react to the horror with, well, horror. Here are just some of the personalities we have to look forward to next season as we draw up our media list of those we'll hate and encourage to do bad so we can come up with back-patting sensational headlines for (that was sarcasm, I swear).
Joey Barton
QPR owner Tony Fernandes says he might force the perennial bad boy back to QPR, despite the ever-so cultured serial tweeter insisting he adores life in Marseille. Of course, Barton insists this return to England won't be happening, as though the contract he signed with the club only exists in Fernandes' fantasies, but somehow we have a feeling that if Harry Redknapp believes he's needed to help QPR back to the Premier League, he'll be back in London whether he likes it or not. Remember when he kind of pushed Vincent Kompany in the final game of the season? OK, it was no bite-gate, but it was still kind of entertaining right??
Jose Mourinho
This Portuguese tactician has been a very very bad man in Spain. His eye gouging and star benching antics have left a sour taste in the mouths of not only his rivals in La Liga, but Real Madrid too, who were happy to forget about his buy-out clause if only it meant that he would leave and never come back. Of course, equally ridiculous and controversial club Chelsea have been happy to accept the crazed manager back into their arms, but trouble is already brewing as they argue with technical director Michael Emenalo over whether he should oversee Mourinho's activities. The last time Mourinho worked for Roman Abramovich it was an amazing meeting of two egos far too big to be in the same club as one another. This time around, the controversy should be even juicier.
John Terry
Not done on Chelsea yet - John Terry is no doubt going to bring lots of laughs over the 2012-13 season, as he considers whether or not to come back into the England fray for the World Cup and mess up any chance the team had of moving on without him taking over every headline and every team photo. He's quietened down a bit lately, but you can always rely on Terry to create a headline when there's a bit of a slow news day. There's even a slight chance that he might play in a European Cup final and make use of those shin pads for once!
Robin van Persie
The man who came up with the quote of last season - "I always listen to the little boy inside of me in these situations - when you have to make the harder decisions in life. What does he want? That boy was screaming for Man United." - turned out to be the brilliant signing for United that the little boy thought, and in the process properly p*ssed off the Arsenal fans. His follow-up season will no doubt be interesting as he looks to build on his title trophy, while the Gunners hope that they don't continue to be embarrassed by players leaving and coming back to the ground to kiss their medals while they go yet another season without a trophy themselves. The striker's present of a signed picture, with the title, to massive Arsenal fan Piers Morgan was of particularly hi-jinx, and if he takes out another trophy, there'll be even more hatred spurting his direction from north London.
Jurgen Klopp
The manager has put himself on the world stage by proclaiming that his side are a fairytale story while German rivals Bayern Munich are the Bond villain. With the love-in continuing as English fans gloss over an Bayern monopoly in the Bundesliga to concentrate on the fan-led clubs, standing areas and cheap tickets, Klopp's celebrity in England is no doubt going to sky rocket as his side Borussia Dortmund aim to win the next Champions League final, and beat Pep Guardiola while they're at it.