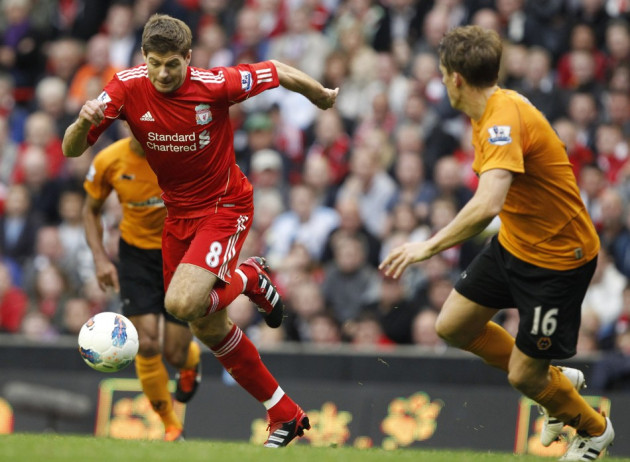 Liverpool skipper Steven Gerrard has recovered sufficiently from an ankle injury and is scheduled to take part in full training on Monday.
The Telegraph reports it is hoped that the player will be able to make his return in the FA Cup third round tie against Oldham in early January.
Gerrard had spent the past week in the United Arab Emirates on the advise of the club doctors who beleived that warmer climate would help fasten recovery from the ankle infection which sidelined him just a month after he recovered from a long-term groin problem.
2011 has been a year to forget for Gerrard, with injury problems coming one after the other, restricting to him just a month's action this season.
With the season entering into the hectic festive period however, his recovery is timely. Reds boss Kenny Dalglish admitted that he would use all his options in the upcoming weeks so as to not put too much strain on the starting side.
"Everybody will get an opportunity. I wouldn't know who has played how many games in a row and we won't judge by that," Dalglish said. "Every one of them is ready to step in and play. There is no individual we are not comfortable with putting in.
"Everybody will be hoping they take part but not because someone is injured but because it would be right for them to take part in a game. In that I think they're well set up for it. The performances in the Carling Cup, where we've made a lot of changes for all the games, proved to the players and the people who've been watching the players who haven't played as much as they'd like that they're very capable of stepping in. That's all we can ask for.
"Everybody's got to be prepared and ready to play. They will all expect to play some part in some of the games. A lot of the games are in proximity to one another.
"Everyone keeps throwing up exams for people but I think they've stood the test of time. They've done brilliantly. They've got to the semi-final of the Carling Cup, what else can you ask for?"