Liverpool manager Brendan Rodgers has revealed that he has been so outraged by the performances of referees this season that he has warned his players may start diving in order to gain decisions.
The candid comments came just days after Rodgers became aggrieved at the display of Mark Halsey in the 2-1 loss to Manchester United in which he felt Luis Saurez was harshly treated.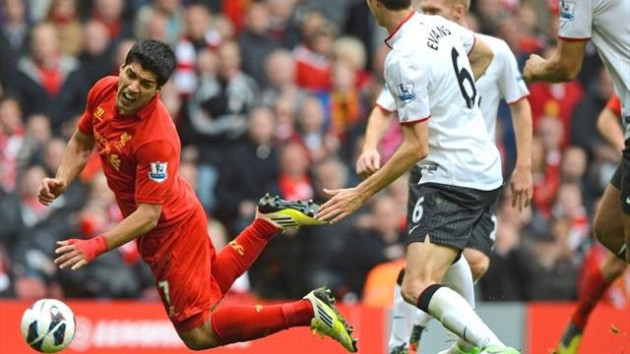 Rodgers also felt as though his striker was being targeted after he picked up a yellow card for diving against Sunderland, when the manager felt as though he could well have been awarded a penalty.
The Northern Irishman revealed that he decided to ring Mike Riley, head of Professional Game Match Officials, in order to air his grievances and warn him that players may begin to resort to unsporting means in order to gain decisions.
"I'm concerned that we've not had any sort of rub of the green from officials," Rodgers admitted to the Guardian. "We like to think we are a sporting team, I have always told my players to do the right thing, not to dive, to play fair.
"But the fairness we show, it seems the decisions pass us by because of it. There are so many decisions that have gone against us.
"I spoke to Mike Riley and he admitted he expected me to call earlier. I didn't ring after the Manchester United game, I wanted to speak to the assessor first on that one, and he hasn't contacted us yet.
"But after the West Brom game, I had to call. Jordan Henderson got a horrendous tackle and the player wasn't even booked, while Andre Wisdom won the ball with a fair challenge and was booked. Things aren't going for us at all."
"It would be a shame if players who respect the rules and managers who are asking players to stay on their feet and not dive are not getting the decisions because of it. I think it is important that referees understand that.
"It has been a criticism of the last few years of players going down too easy. It is not something we want to encourage but if you're not going to get decisions because of it players may do that."
Rodgers feels as though numerous decisions have gone against his side already this season as Liverpool continue to look for their first league win of the season. The boss is not alone as Steven Gerrard and Glen Johnson both came out in defence of Suarez after he appeared to have been caught by Jonny Evans in the box against United.
Rodgers continued: "Suarez has had a couple of good penalty appeals, he hasn't dived, they have been legitimate, and he's actually got booked. He went down at Sunderland and it looked a clear penalty and he ended up getting booked for it.
"Last weekend in the Manchester United game there was more contact in his case than there was in Antonio Valencia's and Valencia gets a penalty and we get nothing other than a hard-luck story.
"I'm not sure [Suárez's reputation is influencing officials] - you'd need to ask the referees - but he is a wonderful talent and irrespective of whether he goes down, if it's a penalty, it's a penalty.
"What I have seen, he certainly doesn't ever look like he is going to get a decision and that is something which would bother me going forward."