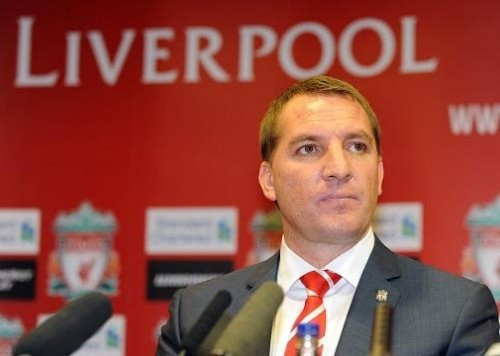 Brendan Rodgers is hoping to have his full squad for Liverpool before the start of the season, with the new manager planning on completing two deals this week for fresh faces to make the move to the Anfield club.
Countless players have been linked to the Reds in preparation for the summer, with the side finishing off a disappointing league season in eighth place.
And though they have yet to make any big name signings, Rodgers has assured Liverpool fans that he wants to wrap up any deals as soon as possible to get the squad working together.
"Initially, it's just about assessing the group, the squad and looking at the strengths, which you never know entirely until you come in," Rodgers told the Liverpool website. "The pre-season is a little bit broken this year because of players being away for the championships and recovering.
"But certainly, come the beginning of the season I hope to have the squad that we can take through.
"Obviously after August, that's it through until January. It'll be a case of piecing it together through until then and building a squad that can hopefully compete at the top end of the league. That's ideally what I want to do."
Rodgers was also quick to insist that Liverpool wouldn't be building heavily on their current squad, particularly as Alberto Aquilani and Joe Cole make their returns to Merseyside.
"There certainly won't be as many [signings] as what's being labelled out there," he explained.
"For players to be associated with Liverpool is great, but the reality is we've only made three or four enquires about players and we hopefully can close out one deal this week, maybe two.
"We're certainly hopeful we can do one and then look to add to it over the course of the pre-season.
"I will never speak about targets and possible players. It's not something I like to do. All I will say is there has been a whole raft of players linked with coming to Liverpool, and there are very, very few of them that are actually real targets for us."
Rodgers also revealed that he had spoken to Aquilani about how he can contribute to Liverpool, with the former Swansea man saying: "He's a good guy. It obviously hasn't really worked out for him as of yet, but he's a player who's got the quality in terms of technical and tactical ability to play.
"But what's going to be important for every player is that they have the steel and mindset to play. It will be very important and that's something I'll find out over the course of pre-season about all the players."