Liverpool are considering a summer move for Manchester City striker Carlos Tevez, according to Goal.com. The Argentina international has only one year left on his agreement with the Etihad club, which is reportedly worth a massive £198,000 per week and could be available for as little as £7m.
Brendan Rodgers is actively searching for a potential replacement for Uruguayan Luis Suarez. The Reds boss has insisted the 26-year-old Anfield talisman is not for sale but comments from the player himself suggest the former Ajax star will force an exit, with nine-time European champions Real Madrid believed to be waiting.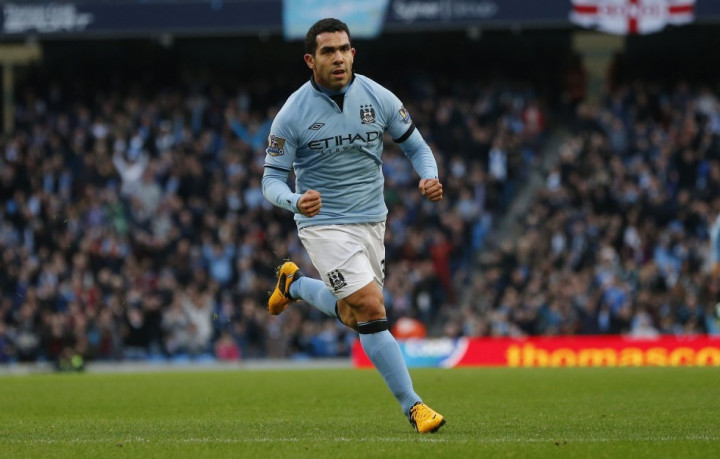 Tevez joins Colombian Luis Muriel on Rodgers' wish list; the Udinese player, according to Goal.com, is valued at £15m. Spanish forward Iago Aspas is reportedly close to a £7.7m move from La Liga club Celta Vigo, to further boost Rodgers' scoring options.
Any move for Tevez, however, will run into financial complications. The Anfield club simply cannot match the former Manchester United player's present salary. It is understood Rodgers will, instead, offer the 29-year-old a long-term £100,000 per week deal.
It remains to be seen if the Liverpool board will accept the proposition. The club's administrators reportedly cancelled a £12m deal for the 28-year-old because they felt it was poor value for money; Tevez's fee may be cheaper but his wages will almost certainly far outstrip what the Reds offered Williams.
Worse still for Rodgers, Tevez is also interesting Ligue 1 pair Paris St Germain (PSG) and AS Monaco. And both French clubs are capable of outbidding Liverpool. Tevez has acknowledged the interest from France and revealed himself ready to move, if a deal were to be agreed.
"There was interest from PSG for me, and we talked with Leonardo, but we could not reach an agreement. it remains an interesting option as the French championship is moving very fast. If Leonardo called me, it's not a problem for me to come, really no problem to come to Paris and France," the Argentine explained.
And to make things more interesting, the Mail Online believes Serie A champions Juventus are also interested in Tevez.
All of this speculation pre-supposes Tevez's exit from the Etihad this summer. However, the player is reportedly eager to work with rumoured incoming boss Manuel Pellegrini and may yet remain with the club, if he signs a new deal.