Ajax midfielder Christian Eriksen will snub a move to Anfield if Liverpool fail to make a bid for him before the end of next month, according to the Sunday People. The Reds are long-term admirers of the 21-year-old and will have to pay £15m to land the Denmark international.
"One minute there was a concrete interest and Liverpool were willing to pay the fee, but now they are taking their time," a source close to Eriksen said.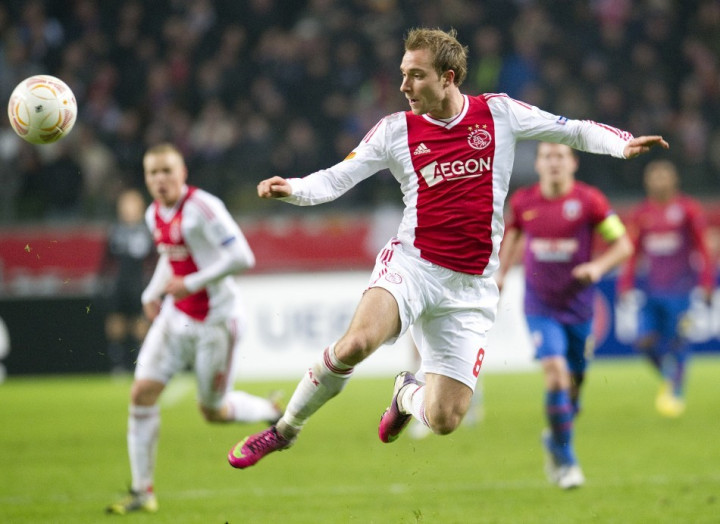 Eriksen has also drawn interest from Tottenham and Manchester United, as well as Champions League finalists Borussia Dortmund. The Germans believe he is the perfect replacement for Mario Gotze, who joins Bundesliga champions Bayern Munich in the summer.
Liverpool boss Brendan Rodgers is believed to want to scout the market for a while longer before committing to Eriksen, but could wind up losing the Dane instead.
Rodgers Thanks Fans for Support
Meanwhile, the former Swansea City manager has thanked Reds fans for their support over the current season. Liverpool host relegated Queens Park Rangers in the final game of the 2012/13 Premier League campaign and although they are likely to finish a lowly eighth, Rodgers believes the season has seen improvement.
The Northern Irishman also stressed he was targeting Champions League qualification next season.
"They [Liverpool fans] have picked us up and carried us at times this season. It's been a huge honour and privilege to manage the club with these great supporters. It's been probably a mixture for them this year of delight and disappointment, but there's no doubt they are going to play a huge part for us going forward because we really need them," he said.
"The club is in a transitional period. We need to have long-term success, of course, but short-term we want that success as well and for us to do that, we have to be one club. There has been a lot of great work gone on here over the course of this season building up our base, and next season I expect us to make another step forward," Rodgers concluded.