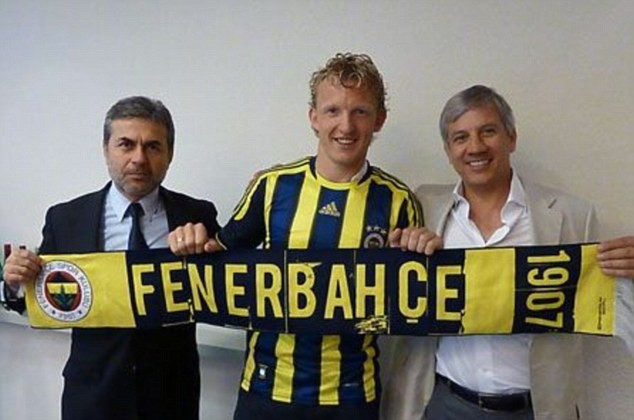 Liverpool winger Dirk Kuyt has signed a three year contract with Fenerbahce, the Turkish club announced. The 31 year old Dutch international leaves Anfield after spending six years at the club, during which time he won the Carling Cup and was runner-up in the Champions League, Premier League and the FA Cup.
Kuyt has been noticeably unhappy in Liverpool of late and forced the transfer out by invoking a clause in his contract that allows European clubs to acquire his services for just £1mn. The deal is the first piece of business the Reds have authorised under new manager Brendan Rodgers.
"I would like to say to a big thank you to them [Liverpool supporters]. I had six wonderful years at Liverpool and it was a pleasure to play for one of the biggest clubs in the world and the best supporters in the world. Not only me, but also my wife and children will miss the LFC supporters. I'd like to thank everyone for all the support they gave me and I will miss them, but LFC will always be in my heart," the Liverpool Web site quoted Kuyt as saying.
The Dutchman arrived at Merseyside after the 2006 World Cup with a reputation as a terrific goal scorer, having scored 71 times in 101 league appearances for Feyenoord. However, Rafael Benitez, who was in charge then, moved the striker out to the wings, which is where he has primarily operated from, for both club and country, since then.
In addition, after the arrivals of England duo Jordan Henderson and Stewart Downing in big-money deals last summer, Kuyt saw first team opportunities at the club limited and expressed his desire to leave by the end of the season, with old employers Feyenoord and Bundesliga side Hamburg heavily linked to him. However, the Netherlands international has decided to join the Turkish league runners-up after Euro 2012.
Kuyt also revealed that the arrival of Rodgers as the new boss at Liverpool was not the reason behind his transfer to Fenerbache. It was speculated that Rodgers did not see the player figuring in his plans but Kuyt, who scored 71 goals in 286 appearances for the Reds, claimed the new manager was not one of the factors that encouraged him to leave Anfield.
"After six years I am ready for a new challenge. The appointment of the new coach has nothing to do with it. But when Fenerbahce came to me and made their ambitions known, from the first moment I was sold. They give me the confidence that I lost," the Guardian quoted Kuyt.