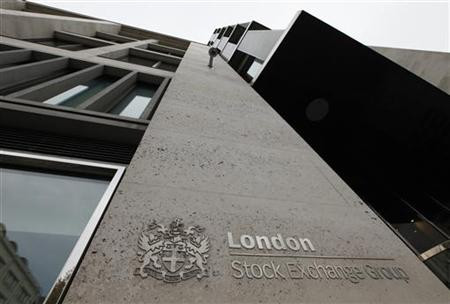 Shares in British banks were broadly down on the FTSE 100 in morning trading after gains made earlier in the week.
Last week saw the FTSE 100 drop below 5,000 for the second time this year after weak Chinese data contributed to fears of a poorer than expected global economic recovery and even of the possibility of a double-dip recession.
However such fears were eased this week when the IMF upgraded its global growth forecast thanks to strong growth in Asia and stronger private demand in the U.S.
The news helped to take the FTSE 100 back above 5,000, with banks regaining much of their earlier losses.
However this morning banking shares were down.
By 10:33 shares in Lloyds Banking were down 0.10 per cent to 60.64 pence per share, RBS shares declined 1.83 per cent to 43.55 pence per share and Barclays shares dropped 0.79 per cent to 299.60 pence per share.
However shares in HSBC performed better, rising 0.48 per cent to 626.20 pence per share.
Overall the FTSE 100 was down 0.09 per cent to 5,100.78.