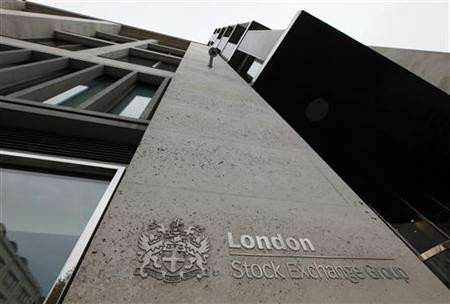 Shares in British banks were down on the FTSE 100 in morning trading as fears of a weaker global economic recovery once more entered the front of investor's minds.
Earlier in the week shares made gains following strong results from U.S. companies Alcoa and Intel.
However today figures from China which saw GDP growth slow from 11.9 per cent in Q1 to 10.3 per cent in Q2, below the 10.5 per cent expected, helped cool investors off.
In addition the minutes from the June meeting of the U.S. Federal Reserved showed that policy makers are feeling significant concern about the slow speed of the economic recovery in the U.S.
By 10:50 shares in Lloyds Banking Group were down 0.79 per cent to 62.50 pence per share, RBS shares dropped 0.63 per cent to 45.91 pence per share, Barclays shares declined 2.39 per cent to 306.00 pence per share and HSBC shares fell 0.91 per cent to 633.90 pence per share.
Overall the FTSE 100 was down 0.30 per cent to 5,237.65