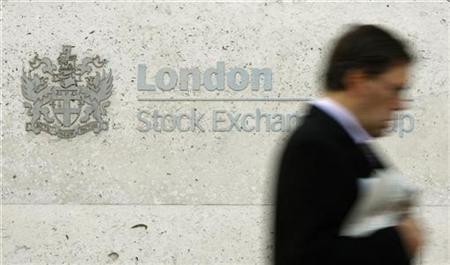 Shares in British banks fell in morning trading on the FTSE 100 after economic data on retail sales, and house prices suggested the recovery is progressing slower than previously hoped for.
The Royal Institute of Chartered Surveyors said that the house price balance dropped to -8 in the three months to July, down from +8 in the three months to June. The latest figure is the first negative reading for this year.
The British Retail Consortium also released data showing that the value of retail sales in July was only 0.5 per cent better than in the same month last year, a slowdown from the 1.2 per cent growth reported in June.
In slightly better news the United Kingdom's trade deficit was reported as narrowing in June to a four month low of £7.4 billion, down from £8 billion in May.
However the news was not enough to encourage investors to buy shares in Britain's banks.
By 10:05 shares in Lloyds Banking Group were down 1.63 per cent to 73.76 pence per share, RBS shares declined 3.59 per cent to 48.54 pence per share, Barclays shares dropped 0.52 per cent to 333.25 pence per share and HSBC shares declined 0.54 per cent to 667.10 pence per share.
Overall the FTSE 100 was down 0.51 per cent to 5,383.10 per cent.