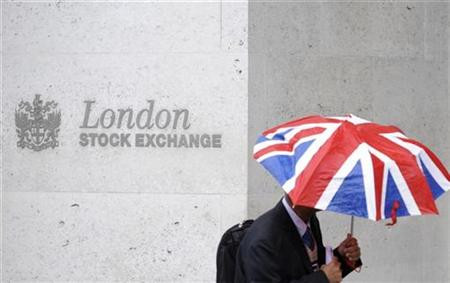 Shares in British banks rose on the FTSE 100 after a few days of losses caused by fears about the state of the eurozone.
Last week saw Spain's credit rating cut by ratings agency Fitch from AAA to AA+. In addition at the start of this week the European Central Bank said it expected eurozone banks to report writedowns worth as much as 195 billion euros in the next 18 months.
The news sent shares in banks down for a few days. Today however banks started to recover.
By 10:54 shares in Lloyds Banking Group were up 2.81 per cent to 57.46 pence per share, RBS shares increased 2.84 per cent to 46.42 pence per share, Barclays shares rose 2.46 per cent to 303.80 pence per share and HSBC shares climbed 1.33 per cent to 642.20 pence per share.
Overall the FTSE 100 rose 1.84 per cent to 5,245.98.