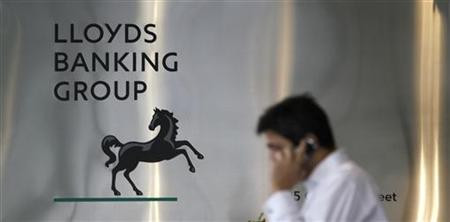 Shares in Lloyds Banking Group were up on the FTSE 100 in morning trading after it said yesterday that it would be closing down Bank of Scotland (Ireland) Ltd and transferring its assets to Bank of Scotland PLC on 31 December.
The group said that it had come to the conclusion that there were few opportunities for future "scalable growth" at the company.
Lloyds Banking Group said that it would be entering into an agreement with an independent service company that will perform administrative works in Ireland. In addition Bank of Scotland (Ireland)'s current employees will transfer to the service company in a bid to minimise job losses.
By 10:30 shares in Lloyds Banking Group were up 0.11 per cent to 70.17 pence per share.
Rival banks however fell with RBS shares down 0.84 per cent to 46.08 pence per share, Barclays shares declining 0.55 per cent to 317.65 pence per share and HSBC shares falling 0.42 per cent to 632.80 pence per share.
Overall the FTSE 100 was down 0.33 per cent to 5,194.01.