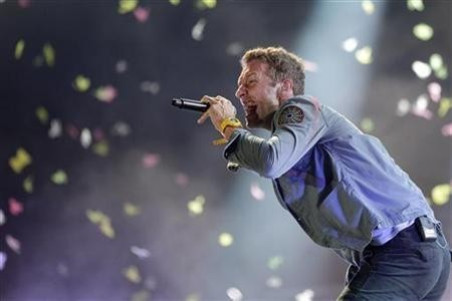 Chris Martin has blamed the London 2012 Olympic Games for making him forget the words to one of his own songs at a gig.
The Coldplay frontman was left red-faced during a performance of Coldplay's track, Warning Sign, in Boston when he froze midway through.
The 35-year old star laughed off his mistake and claimed that it was a result of his happiness over the Games being held in London.
He told the cheering crowd: "Oh s**t! I was thinking about the Olympics. I was distracted. I was not in the breakup frame of mind and I should have been.
"It's a big deal, man. We've never had the Olympics in our lifetime so you can't blame a band for thinking about it every once in a while. God, the f*****g Olympics are happening in London!'"
After regaining his composure, the Paradise hitmaker tried to steer the show back on track.
He joked: "I'm going to get back into it. I'm going to stop thinking about pole vault, things like that, and I'm going to focus back on the song. So is everybody else.
"What's more important is the best concert in the world is happening right here, right now, so we'd better carry on."
Coldplay will perform at the closing ceremony of the Paralympics on 9 September.