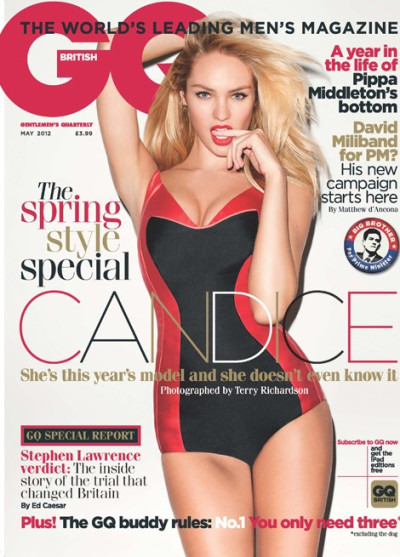 After years of being taunted by high school bullies, Victoria's Secret model Candice Swanepoel is definitely having the last laugh.
The 23-year-old beauty has just landed a solo cover shoot for GQ magazine and if only her tormentors could see her now.
Fresh from walking a number of high profile catwalk shows and bagging a Prabal Gurung campaign, the tall blonde is now making a successful career from the body that she was once teased for.
During her shoot for the men's magazine Swanepoel reveals that she could not be happier.
Posing in a range of bikinis, barely-there briefs and swimsuits she admitted: "Revenge is always... I know it sounds terrible, but it does feel good to show those people.
The star, who is taking the fashion world by storm, confesses that she felt like an outsider growing up in her native South Africa.
She told the magazine: "A year before I got scouted, I would watch a lot of FashionTV. At school, I got teased because I was so thin and awkward-looking. But the girls on TV looked similar to me.
"I would say to my mom, 'the girls at school are teasing me, but I look like those girls on TV'. A year later, someone took me to an agency and that's it."
Her big break finally came in 2003 when she was discovered at a Durban flea market at the tender age of 15.
"I put all my eggs in one basket when I left South Africa. I put my head down and worked my ass off. And look where it got me."
IBTImes UK has a closer look into Candice Swanepoel's world, in front and behind the camera lense.