Liverpool hero Roger Hunt says Luis Suarez's reputation as a diver in English football is overshadowing his star quality.
Stoke City boss Tony Pulis is asking for Suarez to be punished by The Football Association after he dived in an attempt to win a penalty in the goalless draw at Anfield on Sunday.
The incident is the latest in a succession which haved worked to undermine Suarez's impressive season for The Reds, in which he's already scored seven times, and Hunt is calling for the 25 year old to put an end to his antics.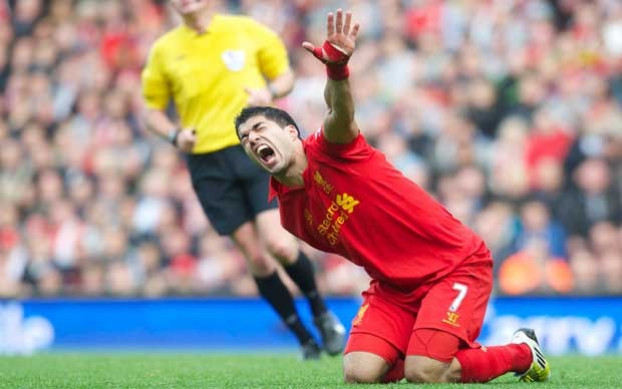 "I think Suarez is a fantastic player, I think he's one of the best strikers I've seen doing what he does around the penalty box," Hunt told IBTimes UK.
"He knows where the goal is and all of a sudden he's in open space in the penalty box, I've not seen anyone who can do that
"So he's a natural goalscorer but unfortunately he's trying to get the referee to give him penalties so I would suggest he stands up and plays his natural game because he's an absolute star.
"I don't know if it's because of where he played before, they might have got this habit of going over when he could stay up.
"With all the trouble he's had and with all the bad press he's having I should think now he should start saying 'I won't dive' because sometimes he's not getting penalties which are penalties because of his reputation.
"He's been doing this for quite a while now. People are talking about Suarez, not because he's a great player but they're talking move about him diving.
"At Norwich the other day, he scored three fantastic goals, he could have scored five goals. So he can do it."
Many blame the eclectic mix of foreign and British players in the Premier League for diving having become a growing a trend in English football.
The reality is prior to the ban on foreign players in the late 70s, British players had already begun diving in matches, despite the no-nonsence reputations of the likes of Ron Harris and Norman Hunter.
Hunt, Liverpool's second highest ever goalscorer, refutes the accusation, claiming that honor came before an unhealthy desire to win during his day.
"You wouldn't actually go down because you didn't want the opposition to think you were hurt," Hunt, who was speaking at the 90th anniversary celebration of The Football Pools, added. "You wouldn't want to go down because it's a sign of weakness whereas now it's quiet common with a lot of players."
Suarez suffered from such a reputation during Liverpool's draw with Sunderland and defeat to Manchester United, where tackles from John O'Shea and Jonny Evans went unpunished, with the Uruguayan being booked for simulation against The Black Cats.
Liverpool boss Brendan Rodgers has previously been defensive of Suarez claiming referees are taking previous episodes into account when judging penalty claims.