It might not have been immediately obvious to those at Field Mill on Sunday afternoon, but when Matt Green halved the deficit with 11 minutes remaining, baring a third Liverpool goal, it insured that Luis Suarez would most likely dominate the headlines for all the wrong reasons once again.
Daniel Sturridge, who scored his first goal for The Reds amid an impressive debut and the sterling comeback and performance from non-league Mansfield, who are something of a sleeping giant in the conference, have been therefore overshadowed.
The Uruguayan's handball, which assisted in him scoring the decisive second to stifle an encouraging start to the second half by The Stags has been labelled as an act of cheating by the nation's media. ESPN commentator Jon Champion wasted no time in branding Suarez a 'cheat' minutes after the goal while The Daily Mail's back page on Monday morning is headlined 'Cheated'.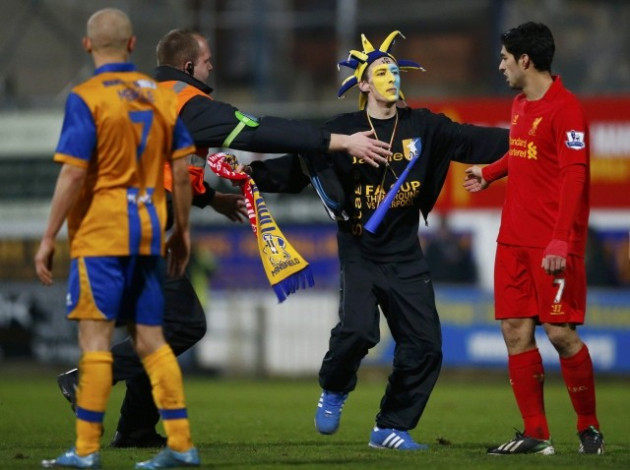 You'll need little reminder as to Suarez's contribution to headlines on the front and back pages since his move to the Premier League in January 2011. Arguable the best all-round striker in the Premier League has been caught up in allegations surrounding incidents at alternative ends of the football's charge list; racial abuse and diving.
The latter has reared its head on more than one occasion with Suarez having been found guilty by officials and via retrospective video evidence leading to a reputation as a serial diver, and justifiably so. He's made his bed, and now he must sleep in it.
That his reputation as a diver makes him a target by officials and the media amid similar incidents is also accurate, and while referees should seek to judge every incident in isolation, the media have the right to lambast Suarez for a blatant act of simulation also. It's their consistent approach which could do with some scrutiny e.g. Gareth Bale.
If the media and football fans' treatment of Suarez is an example of how any player should be criticised following a diving offence, then his persecution after his handball which proved pivotal in knocking Mansfield out of the FA Cup, is totally inconsistent and smacks of chronic mistreatment.
A week on from the passing of Christopher Martin-Jenkins, one of cricket's finest ever broadcasters and writers, whose reputation for portraying the facts in an enlightening and colourful manner is his glowing journalistic legacy, it's devastating to see another example of opinion motivated and bias news reporting.
Suarez committed an instinctive offence any other player would have in the same position. In not owning up to the sin, he again is like any other professional sportsman. Suarez is no different to any batsman who refused to walk, officials are present to preside over the game, players are not obligated to interfere.
But most worrying of all, you fear, in the same way diving has been wrongly attributed to an influx of foreign players, that the criticism towards Suarez is motivated by his status and his nationality. Had the standard of opposition been different, any of Mansfield's or English football's noble home-grown players done the same you think rather than cheat and fraud being used as a description, the offender might have been reported as plucky and opportunistic.
Liverpool's premier front-man might only himself to blame when it comes to his name being linked with controversy, but never does that justify reporting which goes beyond the pale. And think, had Green missed, this debate might not have even been relevant; another inconsistency.