Liverpool legend Kevin Keegan says manager Brendan Rodgers is entitled to punish Luis Suarez after the striker admitted to diving in an attempt to win a penalty against Stoke City in October.
Suarez last week told Fox Sports Argentina that he 'created a foul' in the goalless draw with Stoke last year, leading to Rodgers claiming the Uruguayan forward would be dealt with internally.
And Keegan, a former European footballer of the year during his days at Anfield, believes Rodgers has no choice but to punish Suarez for the confession.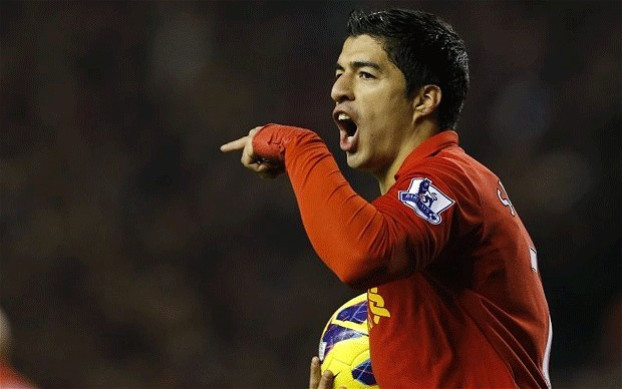 "Luis Suarez wears my old No 7 shirt at Liverpool and the fans are desperate to worship the ground he walks on, not falls on," Keegan said.
"He's a very good player and has been excellent this season but he gets involved in far too many controversial incidents. When you are a manager of an English club and your foreign players go home you just wait for something to come out.
"Players relax and think that, as they are in Argentina or Spain or wherever, that their words are not coming back because they weren't speaking English.
"So Suarez admits he dived against Stoke, I remember the game and I don't think there was anyone in the world who thought he did anything but dive. But what he does is put the club into a difficult position.
"Brendan Rodgers has no choice but to discipline one of his players and it's all about Suarez for non-footballing reasons. He needs to sort that side out as he is an exceptional player."
Rodgers has pledged to punish Suarez internally after having previously defended the South American following numerous accusations of simulation throughout the season.
"I was accused of falling inside the box in a match, and it's true I did it that time, because we were drawing against Stoke at home and we needed anything to win it," Suarez, Liverpool's top scorer, said.
"But after that everybody jumped out to talk - the Stoke coach and the Everton coach [David Moyes] - but the name Suarez sells [papers]."
Fifa vice-president Jim Boyce condemned the dive from Suarez last year while opposing manager Tony Pulis at the time requested The Football Association ban the Liverpool player.
"They should look at it on a Monday after the games have been played at the weekend, and people who have been caught simulating should be punished," Pulis said.
"I think if you do that - if you give them three, four or five games or whatever - then it will take it out of the game.
"With simulation, I think if a player is found blatantly diving to gain an advantage, whether it is a penalty or conning a referee into giving a decision, they should be dealt with very severely.
"What you would find is that it would soon stop, and that is what we all want, because it is, on a lot of occasions, cheating."