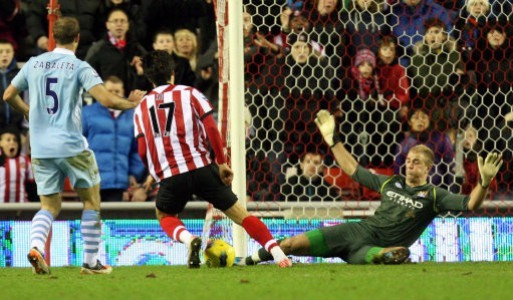 The reigning English champions were beaten 2-3 by Spanish giants Real Madrid in the opening game of this season's Champions League; Hart conceded a 90th minute winner to Cristiano Ronaldo.
"It's not on. You can't go 2-1 up and lose the game. We can only blame ourselves. They are a very good team and so are we. We dug deep, got a lead twice and threw it away. It's hard to come off the field after losing 3-2 and be positive," Hart said after the defeat, in a game that could actually have finished far worse for the visitors at the Santiago Bernabeu had he not made some solid saves in the first half.
However, despite his generally good showing, Hart too was guilty of mistakes. He really should have done better with Ronaldo's 90th minute strike and ought not to have been beaten by Karim Benzema's shot at his near post; the two scored in the 87th and 90th minutes to turn a 1-2 defeat around.
Mancini, while acknowledging the truth of Hart's statements, added that he did not consider his No 1's statements too favourably.
"Joe Hart should stay in goal and make saves. If anyone should criticise the team it should be me, not Joe Hart. I am the judge, not Joe Hart," the former Inter Milan manager explained.
The 47 year old also said, speaking to his club's official Web site, he expected his defence to improve dramatically if they wanted to progress past the group stages at the second time of asking; City made their Champions League debut last year and were eliminated at this stage.
"We didn't defend as we can on the edge of the box and made some mistakes - we cannot continue to defend this way and we need to resolve this problem quickly," the manager stressed, adding, "We can't continue to talk about experience because we have good players who are used to playing in big games like this."
He concluded by stressing on the importance of the five remaining games in the group (City have been drawn with Madrid, Dutch champions Ajax and German champions Borussia Dortmund, whom they face next) and ensuring they did enough to see at least two of these three national champions off.
For ticket information for the Borussia Dortmund game, scheduled for 3 October at the Etihad, click here.