Members of a Manchester City supporters' club are in uproar after boots, shirts and other kit they donated to a team in war-ravaged Sierra Leone were hijacked in a dispute with local officials allied to a rival club.
The beneficiary of their donations, die-hard Manchester City fan Armani Sheku Kamara, faces jail after being accused of receiving stolen goods by rivals jealous of the merchandise he had been sent.
Kamara was sent hundreds of football boots, shorts, shirts and other gear by members of the Bluemoon MCFC supporters' group after he struck up a friendship with City fan Tony Griffiths, a retired police officer, while selling sunglasses on the beach in Freetown, Sierra Leone.
Griffiths was in the country to train the country's police force, and invited Kamara to visit his beloved club in a return journey later that year.
With the help of City fans, Griffiths and Kamara established a City-inspired club in the West African nation, one of the poorest countries in the world, where a civil war raged until 2000. Life expectancy there is 38.
The boots and shirts were intended for use by the team the fans had jointly founded, known as "Man City Sierra Leone". Busloads of Umbro football boots were shipped to Freetown for distribution to players at the newly formed City affiliate.
With the help of the Premier League club's City In The Community initiative, a team bus itself was later shipped to Freetown for the team's use, along with crates full of kit, training gear, laptops and books.
Manchester City has a huge following in Sierra Leone, where former striker Craig Bellamy founded the country's first professional football academy, the Craig Bellamy Foundation.
The country has one of the largest Manchester City supporters' clubs outside the UK. Griffiths visited the country with former City star turned club ambassador Paul Lake, and fellow Bluemoon members Howard Burr, Phil Holme and Alex Channon, to oversee deliveries.
"Armani [Kamara] had lots of equipment and he distributed it free of charge to football clubs, schools, churches, mosques. That distribution was covered widely in the Sierra Leone media," said Griffiths.
But a dispute involving a powerful local woman linked to another football club, FC Johansen, led to Kamara's arrest by detectives in Sierra Leone.
"This woman is very influential and wealthy," said Griffiths. "It was decided that her football club should receive the remaining Umbro stuff that would not fit into Kamara's container. She also received some City kit."
A row broke out when it emerged the women's club was using the shirts for official matches, rather than in their leisure time, as had been the deal. "Armani expressed concern to me and I passed that on to Paul Lake," said Griffiths.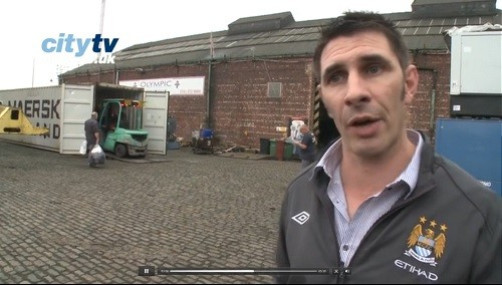 "Paul wrote a friendly email to the owner of FC Johansen reminding her that any City kit she had received was for her team as leisure wear. To avoid confusion with Man City Sierra Leone it should not be worn at official matches.
"The reply Paul received was, in my view, aggressive and critical of Armani for bringing it to the attention of City. Also within the reply to Paul was what I perceived at the time to be a veiled threat."
Matters came to a head when detectives arrived at a Man City Sierra Leone training session, accusing Kamara of stealing his players' boots from FC Johansen.
"Armani was arrested and taken to the police station where he was able to contact me in a very distressed state," said Griffiths.
Ex-cop Griffiths then spoke to the investigating officer but said he "did not seem interested in anything I wanted to say".
"He told me Armani would be held in custody until the investigation was complete," said Griffiths, who was told the officer had been "encouraged" by the complainant to deny Kamara bail.
Griffiths enlisted the support of Miriam Mason-Sessay, of the Educaid charity in Sierra Leone. A legal representative spoke to police and was able to arrange Kamara's bail the next day.
Two days later, Armani returned to the station and was charged with receiving stolen property. On 12 June, he entered a Not Guilty plea, but was shocked to be remanded in custody.
Griffiths received calls from friends in Sierra Leone saying the magistrate would not consider bail, and explained that Kamara's accuser had family links with a senior judicial official. Kamara will go on trial on 4 July.
"Everyone who knows Armani well in both this country and his country knows that these allegations are malicious, and are born out of jealousy and vindictiveness. But the allegations are made by an influential person," said Griffiths.
"One of the calls I took was from the man who runs Sheffield United Sierra Leone. He told me that every football club in Sierra Leone was supporting Kamara, and they all knew that the charges against him were malicious.
"Another caller told me that senior people in the Sierra Leone FA were not happy with the situation and were supportive of Kamara. He is being accused of stealing Umbro boots when he has given away hundreds of pairs of Umbro boots."
Griffiths added that Kamara had been the victim of "unethical treatment", terming the matter an issue of "international concern ... that puts Sierra Leone in the spotlight".
"I know from experience of working out there that people with influence tend to get their way," he said.
The full video story of Manchester City's donations to Sierra Leone can be followed on the club's official website. For more on Armani and MCFC Sierra Leone, see the special fans' website.