Diego Maradona has now urged Manchester City striker Sergio Aguero to join Real Madrid. The Argentine legend believes his compatriot's move to Real will complement their talisman Cristiano Ronaldo and help him score more goals.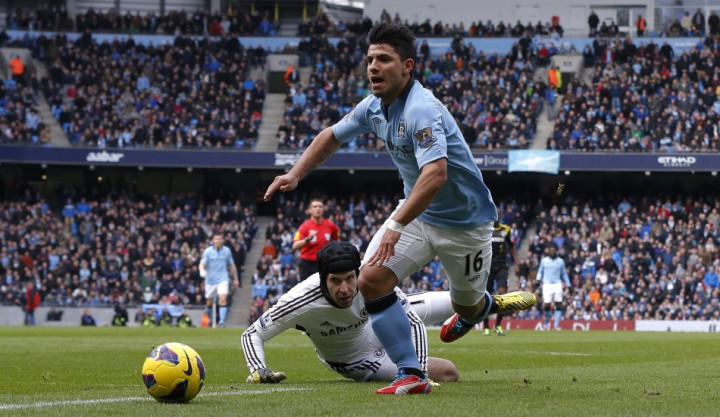 "Kun is the solution for the future of Madrid, and Ronaldo, the perfect complement. Sergio is pure movement, while (Karim) Benzema and Pipit (Gonzalo Higuain) are two tanks who can split the defence, yes, but they collide with Ronaldo. One of these days it will take Cristiano ahead to one of the two. Sometimes I think we are going to have to put a traffic light there to regulate traffic between them," the Argentine told the Daily Mail.
Aguero joined the Premier League champions in the summer of 2011 from Real's cross-town rivals Atletico Madrid. The Argentine was the club's top scorer in his debut season in England, with 23 goals. Maradona admitted the striker is currently happy with Roberto Mancini's side, though he feels life in Madrid would be far more interesting than in Manchester.
"It would be spectacular. I keep seeing in Madrid, although it is true that right now he is very happy at City, very happy at the club. Of course, living in Manchester is like living in a freezer... in a freezer," Maradona added.
Meanwhile, Aguero ended his four-year long relationship with Maradona's daughter Giannina, who is currently living in Madrid with their son Benjamin. Aguero had admitted it was difficult for him to stay far away from his son and claimed he could have joined the Spanish champions, if there was any interest from Real, while he was with Atletico.
Should he join Real at the end of the season, it would have a serious impact on City's attacking line-up, especially after the departure of Mario Balotelli to AC Milan in January. In addition to this, Edin Dzeko has hinted he could leave the Etihad and return to the Bundesliga, while Carlos Tevez has also been linked with a move away from City.