How Bayern Munich Successfully Swooped For United's Top Midfield Target
IBTimes UK takes a look at how Bayern Munich sealed the deal for Thiago under Manchester United's nose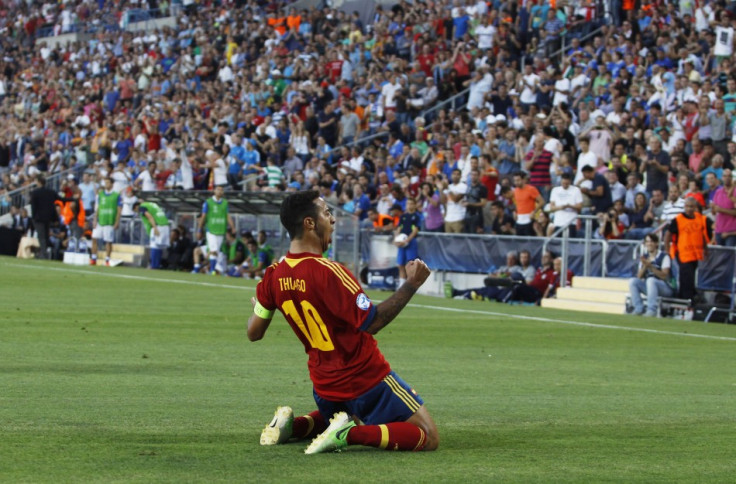 Thiago Alcantara is seen by many as a steal for Bayern Munich who swooped under Manchester United's nose to sign the Barcelona midfielder, but the young star will have even more to prove at his new side than he did at his former home.
Thiago's release clause of €18m came as a result of a complicated clause in his contract with Barcelona that has left the club losing out on one of Spain's most promising young stars.
The 22 year old had to feature in at least 30 minutes of 60% of Barcelona's games since signing a deal with the club from 2011-2013 or he would be allowed to leave for the bargain fee compared to his permanent get-out clause of around €90m. The club had wanted to keep Thiago, but after purchasing Cesc Fabregas in the same year as he signed his new deal with the club game time became even more limited.
The reason for this clause, which provided a huge advantage for the player, was explained by Spanish football expert Sid Lowe in 2011 when he signed the deal.
"Although the temptation to allow him to move -- so long as it was with a buyback option -- was there, Barcelona was more concerned by the talk of offers than encouraged by them," he explained. "There had even been contact between Thiago's father and Real Madrid.
"Instead, quite possibly 'encouraged' by that, Barcelona sped up the offer of a contract renewal."
At the conclusion of the 2012-13 season Thiago had featured in exactly 60% of the games he was able to play, but only played for longer than 30 minutes on 15 occasions. This clearly wasn't enough to satisfy the Spain international and as a result his exit clause became a topic of huge reportage.
With a club needing to step in before July 31st to activate the clause, United were reportedly willing to pay it. But Bayern came into the fray and keeping the deal very much under wraps - it was only announced in the Spanish press that Thiago was a point of interest for the club on the day that Pep Guardiola let the cat out of the bag - they worked quickly to ensure they could get the star and eventually paid more than his release clause.
Guardiola's relationship with Thiago is widely believed to be one of the reasons behind the dealbeing completed. Leaving the competition of Andres Iniesta, Xavi and Fabregas - who now is the subject of a bid from United as the club scramble to find another midfield target - Thiago is now joining a club with arguably the most dangerous and in-depth midfield line-up in the world right now.
Bayern eventually paid €25m - with €20m in up-front cash and up to €5m coming through a friendly to be organised between the sides over the next four years - though after Guardiola's comments about the Barca board you wouldn't think it would be very friendly - and while the details are unclear as to why Bayern used this route, some theories have included that it helps with tax issues or that Guardiola didn't want to accept the clauses that came with the buy-out.
Barcelona fans will be disappointed to know that as yet no buy-back clause has been revealed and this could have been the sticking point for Bayern offering the extra money to secure Thiago's services.
The deal with Bayern is for four years and Thiago will likely find his feet for the club very quickly on the back of a hugely successful under 21 campaign with Spain. Spanish journalists who have followed the young star's career have spoken about his brilliance and have speculated over where he will fit in to the side.
Lowe raved about the then 20 year old's campaign with Spain in the 2011 Under 21 Euros, saying: "The son of Brazilian World Cup winner Mazinho, Thiago shone in Denmark (at the Under 21 Championships) with his vision and touch -- constantly controlling the ball with the sole of his boot, rolling it under his studs, fútbol sala style.
"Quick footed, he was always looking for the incisive pass but virtually never looking where that pass was headed. Like Michael Laudrup -- a footballing Magic Johnson -- he preferred to throw the defender with a look one way, eyes darting sharply from right to left and back again before, advantage gained, delivering the pass the other."
And that talent has continued to show for his country as Thiago scored a perfect hattrick - one on his head, left and right foot - to gift Spain a 4-2 win over Italy in the 2013 Under 21 Euros.
Mundo Deportivo journalist Santi Nolla has lauded Barcelona for making an economic coup over the move, explaining: "Barca has finally made good economic operation in selling Thiago for 25m to Bayern Munich.
"From a footballing point of view it would have been interesting if he'd stayed, but Guardiola has convinced him it would be better option to go to the Bavarians. At FC Barcelona it was clear that in two years he had a role, but players who do not want to be in the club it is better to let go of."
While the issue of game-time is believed to be a sticking point for Thiago, Catalan paper El 9 Esportiu has claimed that Guardiola has given the Spaniard a clear game play for the season ahead.
"Guardiola said that Thiago plans to use a 3-4-3 in a lot of games and he will fit in this picture alongside Kroos, Muller, and Schweisteinger for company," the publication reported.
How Gotze will fit into this line-up, time will tell. And while Thiago will be uncertain of his future with Bayern at this stage he is joining a club with a much larger European presence than United at this point in time as the Manchester club begin a new era under a coach whose pulling power for players can't compare to Guardiola.
© Copyright IBTimes 2023. All rights reserved.