Jose Mourinho said the best team lost after Real Madrid defeated Manchester United 2-1 to go through to the Champions League quarter finals.
United entered last night's match with a slight advantage, having drawn the first leg in Madrid, and they looked to be heading for victory after Sergio Ramos scored an own goal in the 48th minute.
But a controversial red card handed to Nani for a high studs-up tackle on Alvaro Arbeloa just eight minutes later left Sir Alex Ferguson's team with a huge challenge.
Mourinho responded almost immediately by introducing Luka Modric, and the player had an almost immediate impact by scoring in the 66th minute to level the scores. Cristiano Ronaldo scored the winner against his old side in the 69th minute.
United threw everything they could at Madrid in the final stages of the match, but with 10 men it just wasn't enough. Afterwards, Mourinho conceded Real were not the better side over 90 minutes and were fortunate to have prevailed..
"Independent of the decision, the best team lost," he said, according to BBC Sport. "We didn't deserve to win but football is like this.
"I am not speaking about the decision as I am not sure about it. Independent of that, the best team lost.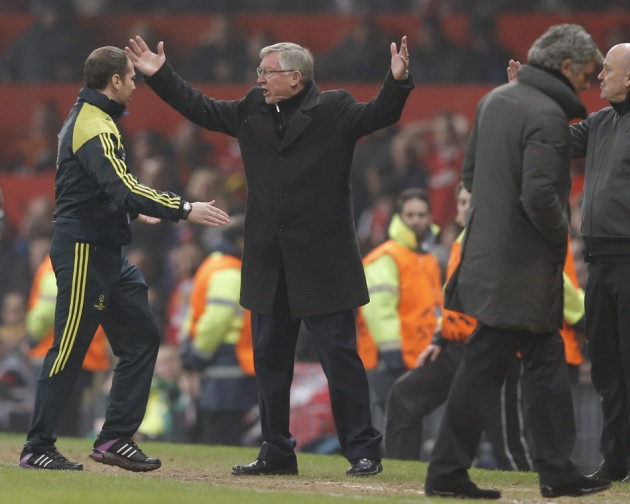 "My feeling is that Manchester United were playing very well, were very compact and aggressive in a good way.
"They were very tactically well organised and the match was very difficult for us. I had the feeling Luka Modric changed the game as he brought qualities we did not have before.
"I doubt that 11 v 11 we win the match. Today I am frustrated as we played so well against Barcelona and today, I was waiting for more.
"I know Manchester United are giants, not just physically but mentally. I know they have a manager who can motivate then, but I was waiting for us to play in a different way."
Sir Alex Ferguson was too 'distraught' to attend the media conference after the game, but his assistant Mike Phelan insisted that the decision by the referee to send Nani off ruined the game.
"The manager is not in a state to talk to the referee about the decision," he explained. "I think it speaks volumes that I am here speaking now and not the manager of this fantastic football club.
"The decision seemed very harsh, possibly incredible at that moment in the game."