Manchester United manager Sir Alex Ferguson has refused to rule out a move for Borussia Dortmund star Robert Lewandowski at the end of the season. The Polish international will have a year left on his contract in the summer and the 71-year-old believes the German club would rather sell to a foreign club than allow him to move to league rivals Bayern Munich.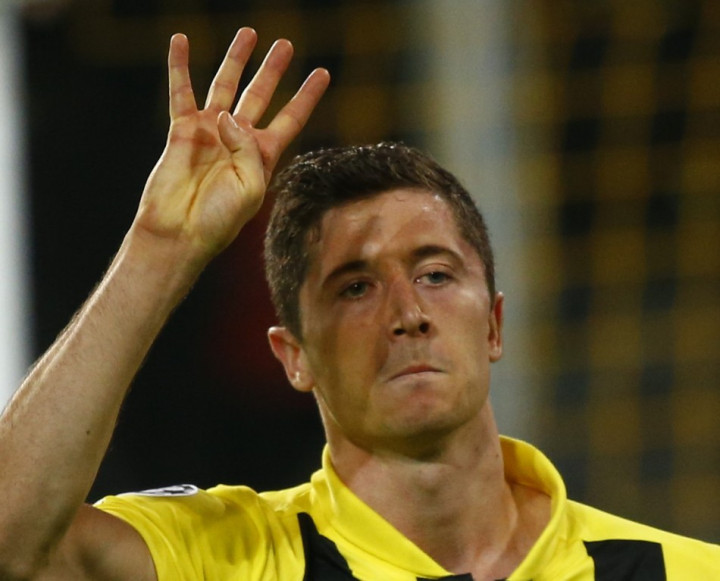 "Have I got room for him? I can find room for anybody. Dortmund fans are not going to be happy and I don't think they will sell Lewandowski to Bayern Munich. I think they will let his contract run out, or sell him somewhere else," Ferguson told the Mirror.
The 24-year-old has long been linked with a move to United, with Bundesliga champions also in the race for his signature. Lewandowski's agent, Maik Barthel, earlier claimed a deal had been agreed with an unnamed club for a summer move. However, Bayern have denied such an arrangement, meaning the Red Devils (if they are not the club Barthel is referring to) may still be in with a chance.
United were crowned Premier League champions on Monday but Ferguson has targetted the Champions League for next season, after being eliminated from this year's competition by Real Madrid.
"The Champions League has to be a ­target for us. I've said it before, we should've done better, we have to do better in Europe. I watched the Dortmund game and I think we should have been there. But for the referee we would have been," the Scot explained.
The Mirror claims United scouts were in the stands at the Signal Iduna Park, when Dortmund hammered Madrid 4-1 in the first leg of the two clubs' Champions League semi final. Lewandowski scored all four goals.
Ferguson has revealed the club may sign no more than two players in the summer and with Wayne Rooney and Javier Hernandez's Old Trafford futures still uncertain, the gaffer may have identified Lewandowski as one of those two summer signings.