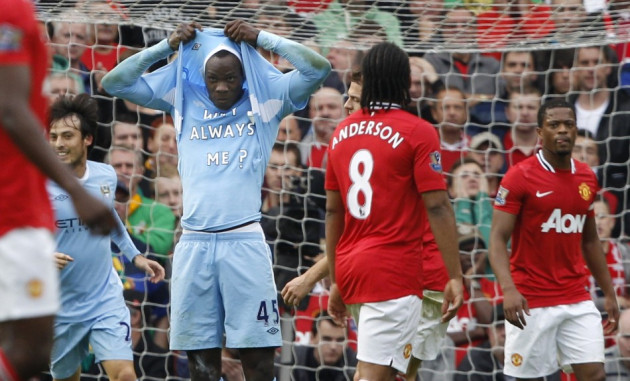 Mario Balotelli has criticised the English media for the excessive attention paid to his actions off the pitch, while also underlining his desire to remain in the Premier League.
Balotelli is set to start for Italy in the forthcoming fixtures against Poland and Uruguay with Antonio Cassano and Giuseppe Rossi side-lined until the New Year.
Talking to reporters ahead of Friday's clash with Poland, the Manchester City said his portrayal in the media is exaggerated but insisted he was not thinking about a return to Serie A.
"When you are famous, there's a tendency to talk more about my personal life than what I do on the pitch," Balotelli said.
"This is normal, but I get tired of it. And if I didn't do the things I do, I would be bored.
"I'm not mad, not at all - even if sometimes I do things that are a bit strange. English newspapers like the Sun are worse than the Italian ones. A newspaper that puts naked ladies on the front cover."
Balotelli would prefer if attention was focused on his performances on the pitch, an area he feels has been improved since moving to England.
"The Premier League has taught me to run a lot," he said. "To go for the ball and when I lose it to press to recover it.
"I don't miss Italian football, the level there has fallen a long way, while English football is beautiful and enjoyable.
"Now I have more playing time and this gives me more confidence. [Cesare] Prandelli and [Roberto] Mancini have helped a lot, giving me the necessary calmness to play, something I didn't have previously."
The former Inter Milan star also indicated that he was ready to demonstrate his club form on the international stage, starting with Friday's game in Poland.
"It is time for me to show up for the Azzurri, I haven't scored a goal yet but the national team is the most beautiful thing for a player," he added.
"[But] I am not nervous about this friendly; it is just a football match. The only time I have been nervous before a match was the Champions League final and then I didn't even play.
"Is there pressure on me? That's always there. I am ready to assume responsibility."