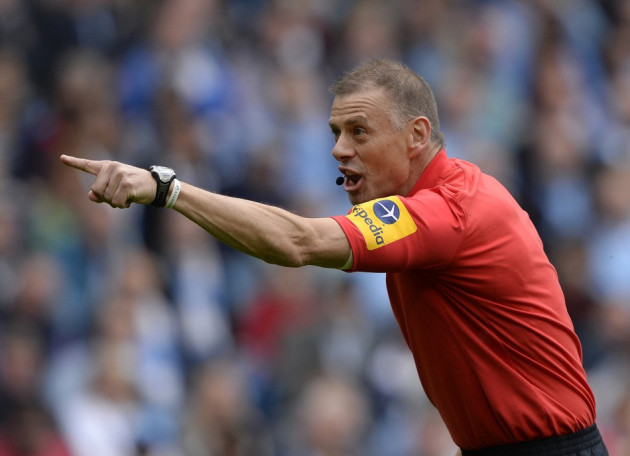 After 15 years as a Premier League referee, surviving cancer, learning of the heartache of his wife's leukaemia, relentless charity work and contending with the Professional Game Match Officials Limited who are slowly losing the confidence and respect of managers across the country, it is no surprise that Mark Halsey, 52, is an emotional man.
A campaigner for improved PGMOL standards throughout his career, even since retiring from officiating at the end of the 2012/13 season, Halsey's battle with football governance has not relented. The Premier League have attempted to block the publication of his book Added Time, forcing the withdrawal of publishers Headline and ghost writer Ian Ridley into forming his own company Floodlit Dreams. At cost.
Halsey turned down a severance package of £50,000 from the Premier League, a pay off to prevent officials from revealing secrets of the trade, in order to tell his story. A tale originally intended to outline his battle back to refereeing from cancer has, via a legal challenge and ample tabloid handiwork, been depicted as a personal crusade against the PGMOL and general manager Mike Riley and such did the pressure swell, that one occasion Halsey considered suicide.
After spending two hours with Halsey at the London Sports Writing Festival at Lord's, the Hertfordshire-born former ref could only bare to speak the name of Riley twice, such is his anger at his treatment following a return from illness, the planting of several stories in the media in an attempt to damage his repuation and what he believes is the GM's destructive tenure at PGMOL.
"I know that members of the establishment [PGMOL and the Premier League] have spoken to the press and thrown little hand grenades in and taken them out to dinner and blackened my name," he told IBTimes UK.
"I'm very disappointed by that. The book is about surviving and my battle with cancer and being an inspiration to all those men, women and children who are suffering with cancer."
The reaction from the footballing fraternity to a story meant to inspire, that has naturally sent newswires bubbling with damming verdict of refereeing standards, has been led by former referee Graham Poll, who retired in 2007. According to the 50 year old Halsey has both "betrayed" his former colleagues and that sympathy for his health should not excuse such views.
"It was very disappointing what he said," Halsey added. "Graham Poll was a very good referee and he's not only attacked me but accused me of playing on my illness, and that's absolutely absurd."
Mike Jones, Jon Moss, Roger East, Lee Mason, Kevin Friend and Neil Swarbrick are the officials which come in for particular criticism from Halsey, who believes the management of the PGMOL, including the premature promotion of many officials, is forcing many out of the game and damaging the top flight.
"If people read it thoroughly it's me saying that the weaker referees need guidance and managing properly and we don't want to lose them like we lost Stuart Atwell, Keith Stroud and Andy D'Urso," he explained.
"It [PGMOL] needs something there that is going to talk to men, manage men and I'm afraid that doesn't happen.
"It's all about promoting our best referees from the Football League into the Premier League, it's a massive step and there is no hiding place now. It's about coming in unscathed and it's about getting the key matches, and that's all you want.
"The people in charge of the PGMOL at the moment they haven't got a clue how to speak to men.
"Once we start losing our top referees, I just don't see where we're getting the next crop from. We've got Mark Clattenburg, Mike Dean and Howard Webb who are excellent referees but once they're gone I don't know what we've got. It's certainly upsetting the managers isn't it?"
It's such a pertinent opinion that has tarnished his relationship with Riley. Halsey told me anecdotally of at least three coaches and managers approaching him about the standard of officiating. A senior PGMOL official even shared his views regarding Riley's ability to manage in such an elevated role. But in January, Riley will celebrate four years as the head of Premier League refereeing.
The primary narrative depicted in the serialisation of Halsey's book in September centred around his relationship with Premier League managers and players. Sir Alex Ferguson, Arsene Wenger, David Moyes, Sam Allardyce as well as England captain Steven Gerrard have all been revealed as close to the official, a veteran of the select group.
With match fixing involving referees prevalent in Bulgaria, China, Germany, Italy, Latvia, Lebanon, Portugal, South Africa, and the United States, aside from Halsey's lobbying for charitable donations, the relationships with players and managers could be deemed as inappropriate in the current climate.
The stress upon Halsey imposed by legal action by the Premier League and the financial impact of Ridley setting up an independent publisher such was Gloucester Place's clamp down on the content, was such that he admits to considering suicide while on holiday in the summer. An arm on the shoulder urged him to consider wider concerns, his daughter and wife, not least his story.
Adversity stalks Halsey at every turn. Social media death threats, personal tragedies, mental anguish. Added Time is just that, an opportunity for a story to be told while he is still willing. Still wanted.
"As soon as I cross that white line everyone knows Mark Halsey is as honest as the day is long." Not wrong.
Added Time: Surviving Cancer, Death Threats and the Premier League by Mark Halsey and Ian Ridley published by Floodlit Dreams Ltd, £12,99