The macaque monkey problem in India's capital Delhi has got so out of hand that the council has hired men to wear monkey masks and pretend they are langur monkeys, which are larger and more aggressive, to try to scare macaques away.
Macaque monkeys are sacred to Hindus, who often feed them for luck, and so they have been free to roam the streets of the capital for years, breaking into houses and offices, plundering gardens and attacking people to steal food.
The macaques sometimes use Delhi's Metro system to travel round the city and have rampaged through parliament, the prime minister's office, and the office of the defence ministry.
They have even murdered. In 2007 Surinder Singh Bajwa, Delhi's deputy mayor, fell from a terrace and died when attacked by monkeys.
According to the World Health Organisation the frequency of monkey bites are second only to dog bites in the city. Until recently wealthy Delhiites hired monkey catchers with trained langurs to keep the macaques away, but following protests from animal rights groups a court ruled keeping monkeys in captivity was cruel.
Macaques frequent the area around parliament due to the high number of trees and relatively easy pickings. However, the area is home to many politicians, business leaders and foreign embassies, so India's parliament has now decided something had to be done about both the monkeys and stray dogs.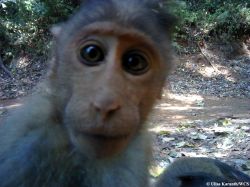 Urban Development Minister M Venkaiah Naidu said in a statement: "Various efforts are being made to tackle the monkey and dog menace inside and around the parliament house.
"The measures include scaring the monkeys away by trained persons who disguise themselves as langurs. The New Delhi Municipal Corporation (NDMC) has hired 40 young persons for this purpose."
The NDMC says 40 "very talented" young men have been hired to don masks resembling the black-faced langur and hang around, copying the noise and action of langurs to keep the macaques at bay.
"They often wear a mask on their faces, hide behind the trees and make these noises to scare away the simians," said NDMC chairman Jalaj Srivastava. Less humorously, if the masked men fail to scare away the macaques Sure Shot rubber bullet guns will be used.