Mathieu Flamini believes Arsenal have learnt from their FA Cup campaign last season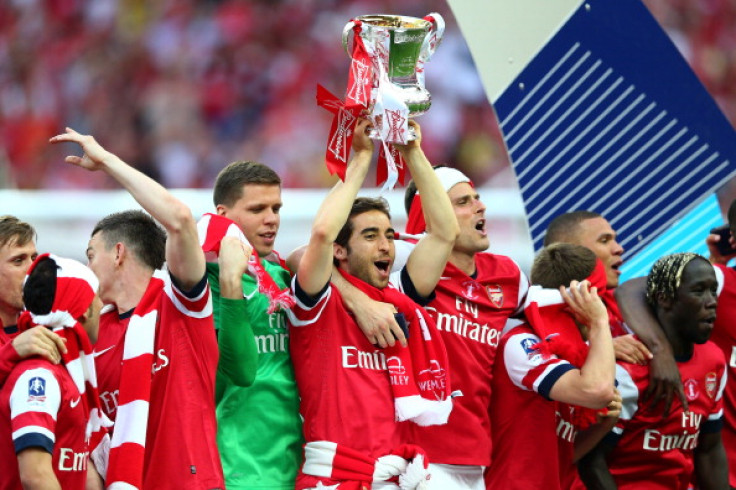 Arsenal midfielder Mathieu Flamini believes that the Gunners know what to expect against Reading after being taken all the way to penalties by Wigan in the semi-final the last time around.
The north London club ended their nine-year wait without a trophy by beating Hull City in the finals, who had gone 2-0 up in the opening 10 minutes helped by some pedestrian defending from the Gunners.
However, Santi Cazorla's goal a few moments later, followed by Laurent Koscielny's strike in the second half took the game into extra time where Aaron Ramsey scored the winner to seal the trophy.
Arsene Wenger will be hoping for a much easier run in this around, having already seen off Reading in a thrilling cup encounter in the Capital One Cup a couple of years back, when they came back from being 4-0 down in the first half to win the encounter 7-5.
Flamini, who has won two FA Cups with the Gunners, one each during his two stints at the club, is yearning to end his contract with the Gunners with a third trophy, which he believes will be easier to achieve than the effort it took last season.
"Wigan definitely [gave us a warning] which is why we know exactly what to expect. The FA Cup is a very tough challenge and you have to give everything to win it," Flamini told Arsenal's official website.
"We know it's never easy to win a trophy and we are very focused. It won't be easy because we will play a very good team, but let's start with the semi-final, let's do the job properly and hopefully we will win it again this year.
"The first time was a great moment. "I was at the club for three years and to win the FA Cup is always very important. It was a great moment, a great communion with the fans and I will always remember it.
"The second time was a chance [for me] to win a trophy straight away and there was a lot of emotion and happiness. The club didn't have the chance to win it for many years, so I was very happy it happened the year I came back," he concluded.
© Copyright IBTimes 2023. All rights reserved.