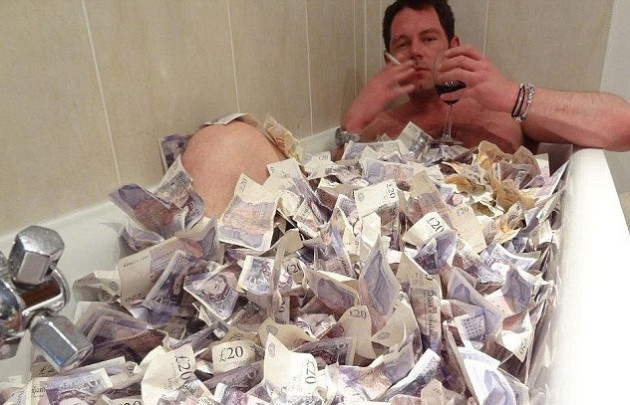 A professional footballer who took photos of himself in a bath filled with money has been branded a "true stalker" by a judge for harassing a former girlfriend.
Northampton Magistrates Court heard that Matthew Ghent, 32, drove his victim to the brink of suicide by harassing her non-stop after she ended their six-month relationship.
Ghent earned a huge salary as a player in the lucrative English Premier League for Aston Villa. He even showed off his wealth by filling a bath tub with £20 and £10 notes and posting a Facebook shot of himself literally in the money sipping a glass of wine and smoking a cigarette.
But Ghent never made a single first-team appearance for Aston Villa and now earns a living by selling shampoo.
He bombarded the 30-year-old probation worker with phone calls, emails and text messages, reported the Birmingham Mail.
Ghent even turned up at her workplace and her workmates threatened to call the police.
Deputy district judge Elizabeth Harte said: "This was an exceptionally unpleasant case of true stalking behaviour. This is exactly the kind of behaviour that this law was designed to combat.
"I have been made aware of the very profound effect that this behaviour has had on the victim's life. If you fail to moderate your behaviour, you will go to prison for a long time."
Ghent's victim spoke of the pain he inflicted upon her during his campaign.
She told the court: "I have gone from being a safe, independent and confident woman to someone who is constantly looking over their shoulder.
"I have never felt so trapped and isolated while in a relationship. Everything I did and said was in an effort to placate Matthew and to avoid situations of confrontation and aggression.
"I was constantly treading on eggshells, left feeling confused, in fear for myself, my friends, my family and my pets."
Ghent was convicted of harassment and given a 10-week suspended sentence. He was ordered to pay compensation.
Lawyer Mark Moore said his client Ghent had suffered from the effects of an end to his football career and was seeking to tackle his emotional problems.