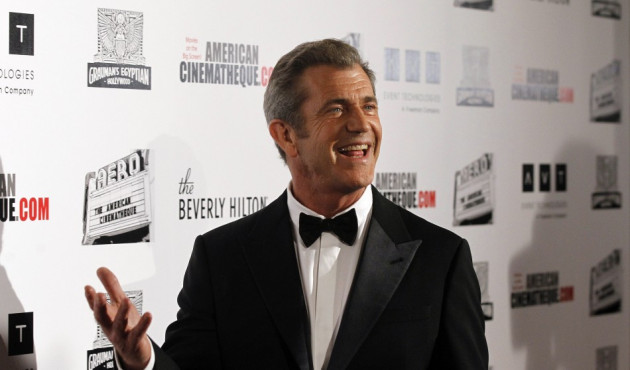 Mel Gibson has been accused of hating Jews, branding them "hebes" and "oven-dodgers", according to a Hollywood screenwriter.
In a nine-page letter to the actor, writer Joe Eszterhas claimed Gibson's hysterical outbursts and anti-semitism derailed plans to make The Maccabees, a film based on a Jewish revolt in the second century BC.
Gibson had been attached to The Maccabees project as director, with Eszterhas writing a script. However, Warner Bros announced it would not move forward with the script.
Eszterhas's response letter, printed in full in The Wrap, accused Gibson of using him and the film to "deflect" accusations of anti-semitism that have dogged the later stages of the star's career.
The letter claims that Gibson would regularly refer to Jews as "hebes", "Jewboys" and "oven-dodgers" before regularly engaging in hysterical foul-mouthed outbursts against his ex-girlfriend Oksana Gregorieva.
"I've come to the conclusion that you used me," Eszterhas wrote.
"I've come to the conclusion that the reason you won't make The Maccabees is the ugliest possible one. You hate Jews."
Eszterhas goes on to claim that Gibson said the Holocaust was "mostly a load of horses**t" and that there was a Jewish Masonic conspiracy to destroy the Catholic church.
He claimed that Gibson acted out the incident in which he struck Gregorieva, with whom he has a daughter, and threatened to have her killed.
He charts a series of Gibson's outbursts, which he claimed left him fearing for his life while he stayed at Gibson's homes in Malibu and Costa Rica working on the script.
"You were staring at the photograph of you and Luci, your beautiful little girl and you suddenly exploded. You hurled your cellphone into a wall and started to scream. "I look so f*****g old! I look horrible! That f*****g whore is destroying me! She's taking my looks! I hate her! She's destroying my life!" reads one passage.
He said that Gibson's outbursts included claiming he was happy that John Lennon was killed because he was "messianic". Eszterhas said he stood by a previous statement he made in his 2008 book Crossbearer that "Mel shares the mindset of Adolf Hitler".
"How did you go from The Passion and the altar boy to screaming obscenities to God into the night?" he wrote. He ends the letter claiming it was only sent to Gibson and his agent, Nick Guerra.
Gibson responded to the letter with statements of his own on Deadline, where he claimed that the vast majority of claims made by Eszterhas were "utter fabrications".
"I would have thought that a man of principle, as you purport to be, would have withdrawn from the project regardless of the money if you truly believed me to be the person you descibe in your letter. I guess you only had a problem with me after Warner Brothers rejected your script."
Gibson acknowledged that he is "passionate and intense" and outlined his frustration that he found Eszterhas had not written the script after 15 months of research.
"I did react more strongly than I should have. I promptly sent you a written apology, the colorful words of which you apparently now find offensive. Let me now clearly apologise to you and your family in the simplest of terms."
Gibson claims that he has been working on the Maccabee project for more than 10 years and that he was committed to making the film without Eszterhas's script.
"Honestly, Joe, not only was the script delivered later than you promised, both Warner Borthers and I were extraordinarily disappointed with the draft," he added.
"In 25 years of script development I have never seen a more substandard first draft or a more significant waste of time. The decision not to proceed was based on the quality of your script, not on any other factor.
"I think that we can agree that this should be our last communication."