Exorcisms are on the rise in Mexico amid growing interest in satanic rituals across the country.
Some exorcists in the Latin American country are conducting spiritual cleansing on a daily basis and cannot keep up with demand in the face of a growing trend that is worrying religious leaders in the predominantly Roman Catholic country.
Catholic priests attribute the surge in exorcisms to the exponential rise in popularity of the folk cult of Santa Muerte, or Saint Death.
Also known as La Dama Poderosa - Spanish for 'The Powerful Lady' - Santa Muerte's hooded skeletal effigy can be seen in stores and shrines across Mexico, where devotees pray to the saint for love, healing, career success and revenge against enemies.
Santa Muerte is estimated to have as many as 10 million followers and Catholic priests attribute Mexico's deadly drugs war to the growing influence of the satanic cult.
Drug-related violence has claimed the lives of at least 70,000 people since 2006 and Mexican authorities are alarmed by the increasing gruesome nature of deaths in recent years which include human sacrifice.
Dismembered corpses laying on roads and severely tortured bodies hanging from bridges have become familiar sights in many parts of Mexico.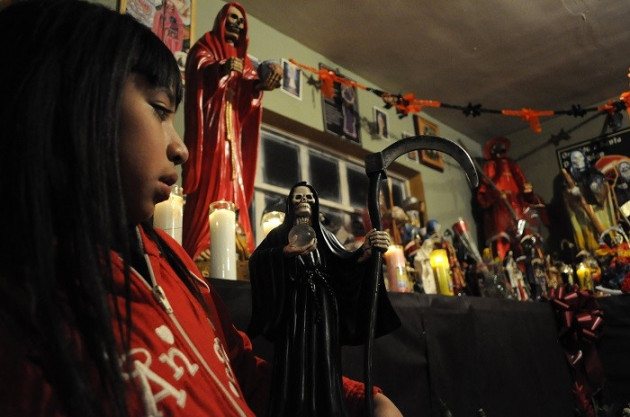 Father Carlos Triana, a priest and exorcist in the capital Mexico City, told the BBC: "We believe that behind all these big and structural evils, there is a dark agent and his name is The Demon. That is why the Lord wants to have here a ministry of exorcism and liberation, for the fight against the devil.
"As much as we believe that the devil was behind Adolf Hitler, possessing and directing him, we also believe that [the devil] is here behind the drug cartels."
Drug traffickers are believed to offer human sacrifices to Santa's Muerte in exchange for help in avoiding arrest and making money.
Andrew Chestnut, author of Devoted to Death: Santa Muerte, the Skeleton Saint, told the Santa Fe New Mexican: "At the end of the day, she's not a Christian saint so if you're a narco in Michoacan and you've got some crystal meth you want to ship to Albuquerque, then you can ask her to do that."
Chestnut, who teaches Catholic and religious studies at Virginia Commonwealth University, said Santa's Muerte's origins can be traced to a female figure of the Grim Reaper known as La Parca, which was brought by Spanish Catholics to the Aztecs in Mexico in the 18<sup>th century.
Figures of Santa Muerte, which are sometimes represented wearing a wedding dress and holding a scythe, have been found in Mexico since the 1940s but the cult has only caught on in earnest within the last decade.
Santa Muerte shrines worshipped by drug cartels were bulldozed along the US-Mexico border in 2009, with then president Felipe Calderon declaring the figure the country's religious enemy number one.
"It's not religion just because it's dressed up like religion," said Cardinal Gianfranco Ravasi, president of the Vatican's Pontifical Council for Culture. "It's blasphemy against religion."