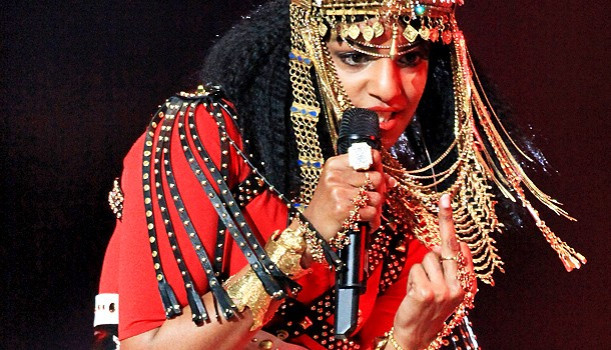 Outspoken pop star MIA has hit out again by accusing Americans of having double standards over her middle-finger salute at the 2012 Super Bowl.
The Paper Planes star said organisers of the American football final were hypocrites for suing her, while apparently failing to condemn under-age girls wearing skimpy clothes at the same event.
MIA is still being sued by the National Football League for $1.5m after failing to uphold its "reputation for wholesomeness" with her rude gesture.
Speaking upon the release of her new album, MIA branded "insane" the reaction to her unscripted gesture which grabbed headlines around the world.
She insisted the image belonged in the context of what was happening elsewhere on stage at the same time.
She told BBC that at "the precise moment in question" up to 15 cheerleaders were behind her - all of them under 16.
"They're all wearing cheerleader outfits, hips thrust in the air, legs wide open, in this very sexually provocative position," she said.
"Is my finger offensive, or is the underage black girl with her legs wide open more offensive to the family audience?"
MIA was performing on stage with Madonna during half time at the Super Bowl final when the incident happened.
"I literally had to make out of there like a diamond robber," she said of the aftermath. "There was so much press. I was like, 'I can't believe this, it's insane.'"
The on-going lay suit between her and the NFL is pointless, she insisted: "That's basically what it comes down to. It's a massive waste of time, a massive waste of money."