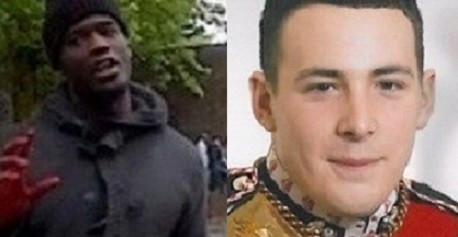 One of the suspects in the killing of Drummer Lee Rigby in Woolwich has made his first appearance in court.
Michael Adebolajo, 28, appeared before Westminster magistrates charged with the murder of the 25-year-old soldier in southeast London on 22 May.
Adebolajo, from Romford, east London, is also charged with the attempted murder of two police officers and possession of a firearm, a 9.4mm KNIL Model 91 revolver.
He arrived in court with a large police escort. His left arm was bandaged after he was shot by police at the scene of the incident before his arrest.
Adebolajo spent nine days in hospital recovering from his injuries before being questioned and charged.
The suspect took the stand holding a copy of the Koran and asked to be addressed as Mujaheed Abu Hamza. The name Mujaheed refers to a Muslim engaged in what he considers to be a jihad; Abu Hamza is the name of the hate preacher who was extradited from the UK to the US in October 2012 on terror charges.
The suspect asked to respond to the charges immediately. He was refused as his case needed to be referred to crown court because the offences fell under terrorism law. He was remanded in custody and told he would appear again at the Old Bailey within 48 hours.
His co-accused, Michael Adebowale, 22, appeared at the Old Bailey today charged with Rigby's murder with additional charges of attempted murder of two police officers and possession of a firearm.
The 22-year-old was refused bail and told he will next appear at court on 28 June.
Adebowale, of Greenwich, southeast London, appeared at Westminster Magistrates Court on 30 May after six days in hospital for treatment for gunshot wounds.
A post-mortem confirmed that Rigby died as a result of "multiple incised wounds". An inquest revealed that the extent of his injuries was so severe that he had to be identified through dental records.
Police at Southwark Coroner's Court said the soldier was killed after returning from a recruitment drive at the Tower of London.
Rigby was killed on the street in broad daylight several hundred metres from his base at the Royal Artillery Barracks in Woolwich.
Prime Minister David Cameron is due to make his first statement in the House of Commons about the killings as MPs return from their half-term break.