Michael Schumacher remains in a "very critical situation" after a second brain operation which took place last night.
Doctors successfully operated at 10pm local time last night to remove pressure caused by build-ups of blood, known as haematomas, a bruising of the brain.
The two-hour procedure resulted in a "slight improvement" in brain scan results.
But a doctor told a press conference: "The situation is better controlled than yesterday. We can't say he is out of danger, but we gained a bit more time. The hours to come are crucial in the outcome."
"He's in resuscitation and things do change really quickly in a bad way and a good way."
Schumacher is being treated at a hospital in Grenoble, near to the resort of Meribel, where he was involved in a skiing accident. He had been staying with his family.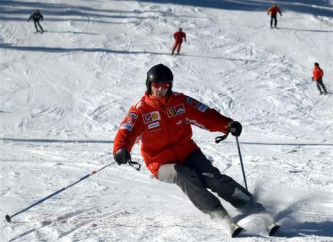 The seven-time Formula One champion was injured in a "very violent" impact with a rock while skiing off-piste. He was wearing a helmet at the time which saved his life, said experts.
Footage emerged of the Ferrari legend being airlifted off the slopes in the aftermath of the crash. He was flown to Grenoble in around seven minutes, where doctors have been battling "hour by hour" to save his life.
Scans showed the full extent of his serious head injuries including a number of haematomas all over his brain and a particularly large one on the left side.
But doctors said they had been "surprised" by how the 44-year-old's condition had improved.
A surgeon said: "We have a new scan which showed us signs he is relatively stable, so there is no worsening of the lesions."
Doctors decided to perform the operation on Monday night after a brain scan showed that an intercranial haematoma � which is causing potentially lethal pressure on the racer's brain - had reduced.
Schumacher remains in danger, they admitted. "It is still critical," a doctor said.
Schumacher's family has been at his bedside since he was admitted to the hospital, with doctors consulting them on his treatment. Outside the hospital, fans have been gathering and messages of support pour in from the racing community.