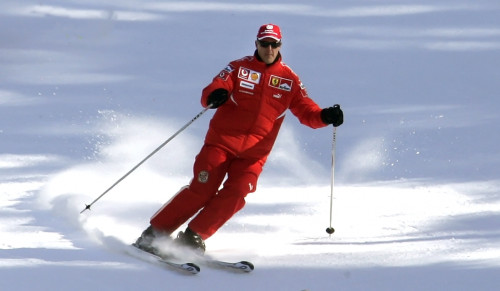 The family and manager of Michael Schumacher, the retired Formula One motor-racing champion, have dismissed claims that he is now out of danger following his skiing accident in the French Alps.
Schumacher's family also deny claims that film footage from a helmet he was wearing at the time of the accident and which is believed to offer clues as to how he collided with a rock was not handed over voluntarily to investigators.
Fellow F1 driver Philippe Streiff had been quoted outside the hospital as saying surgeon Gerard Saillant had told him Schumacher was improving.
"He said it is a serious condition," Streiff told reporters, "but his life is not in danger anymore, thankfully. He is such a healthy man. He's 45, he's young and has always been very fit. He is in top shape physically so there are no reasons why he would not make it."
However Schumacher's family and management rounded on Streiff for making the claims.
"Michael's condition remains critical but stable," said his agent Sabine Kehm.
"We would like to clearly stress that any information regarding Michael's health not coming from the doctors treating him or from his management must be treated as invalid and pure speculation. The family cares only for Michael's health."
Kehm also denied the Schumacher family hadn't co-operated with investigators by refusing to hand over the helmet:
"Michael's helmet camera was voluntarily given to the investigating authorities by the family. That this should have been done against the wishes of the family is untrue."
It is still unclear whether the camera on Schumacher's helmet was switched on at the time of the accident. The F1 star's teenage son, who witnessed the crash, has been interviewed by police in the hope he can shed light on how the accident happened.
Schumacher, who won seven world championships during a long career in F1, remains in an induced coma at Grenoble University Hospital. Doctors have officially refused to make a prognosis but there have been cases of people recovering even from such severe brain trauma. On the German's 45th birthday hundreds of fans held a silent vigil outside the hospital.