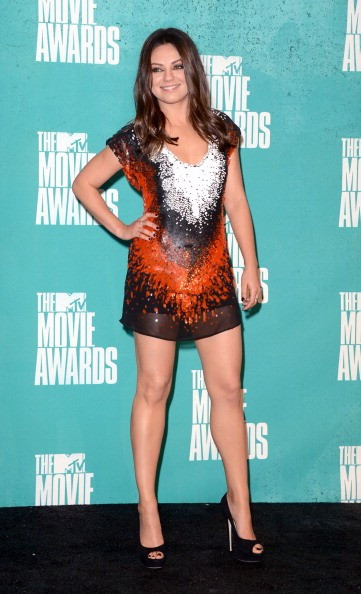 Actress Mila Kunis, whose onscreen relationship (as Jackie Burkhart with Michael Kelso on the hit sitcom That '70s Show) continues to be fondly looked upon, has, it seems, a tryst in real life. There have been rumours surrounding the relationship between Kunis and actor Ashton Kutcher; the two have been seen spending a lot of time together.
A report in US Weekly said the Friends with Benefits star was seen accompanying the 34 year old Two And A Half Men actor to the exclusive Soho House in West Hollywood and the two seemed very happy together.
"They were seated on a couch on the same side of the table and Mila was running her hands through Ashton's hair," a witness told Us Weekly, "She had her elbow resting on his back and couldn't stop playing with his hair and rubbing his shoulders. He leaned in and whispered to her and kissed her cheek. They were holding hands."
The duo were even spotted riding on Kutcher's motorcycle in Hollywood, while US Weekly reported the two are keeping things casual, for now.
"They're not exclusive, but they are hanging out and seeing where it's going," a source told US Weekly. Similar information was conveyed by Kunis' spokesperson.
"They've been friends for years and they had dinner with a bunch of friends. They're not dating," the representative told Celebuzz.
Kutcher, incidentally, has just divorced actress Demi Moore, whom he was married to for six years. Kunis, on the other hand, broke up with boyfriend of eight years, Macaulay Culkin, last year. An insider was quoted as saying: "they've been hot for each other for years. It stretches back to when they were friends on their show!"
In addition, a source close to Kutcher told People the two were simply having fun, while another said Kutcher was "so in love with [Mila] for a while when they worked together".
Meanwhile, the actress herself has personally denied all such speculation and termed the questions as "bullying" of her personal life.
"Ninety-nine per cent of it is bulls**t," Mila was quoted as saying by the Inquisitr, "That is the biggest form of bullying ever, the paparazzi. Printing lies, making accusations, it's just bullying."