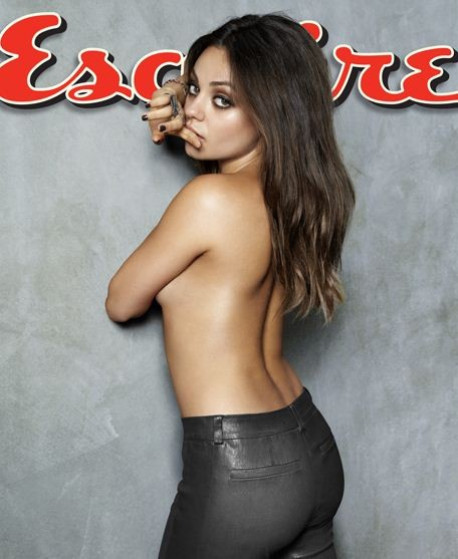 Actress Mila Kunis has been named the Sexiest Woman Alive for 2012 by Esquire magazine. The 29-year-old Ukraine-born beauty, who grabbed the title from last year's winner Rihanna, posed topless in skintight pants for the cover of the magazine's November issue.
Kunis, who rose to fame through hit sitcom That 70s Show as Jackie Burkhart and is currently dating her former co-star Ashton Kutcher, opened up to the magazine on her life.
The Black Swan actress, who is currently shooting for The Angriest Man in Brooklyn, said she is not a comedian and in fact she learned how to "deliver" comedy.
"I think I stumbled upon doing funny things, but I'm not funny," she said, "I just know how to deliver a joke. There are people who naturally exude humor and are constantly saying funny things, and there are the people who know how to deliver a joke.
"It's a learned skill. Through twenty years of doing this, I practice it. I think that the second you think that you're funny is when you stop being funny."
Kunis , who also voices Meg Griffin on the animated series Family Guy and starred in Seth McFarlane's big-screen comedy Ted, shared her thoughts on the industry and staying true to herself.
"What I do and who I am are two different things. And they always will be. What happens with people is they lose sight of who they are, and they become either who they want to be or who they are perceived to be. But whatever it is, it is no longer who they are. So much of who you are in this industry is based on what that critic says, what that director says, what that actor says," she told the magazine.
"People start believing all that, and they become what everybody else wants them to be. And I think that I've consciously separated my two lives," she added, "I love what I do. I couldn't imagine doing anything else. But when I'm done with work, I'm done with work. I think that if I bought into the hype, I would lose all sight of who I am, and so much of who I am is what my parents went through and instilled in me. And I never want to lose that. Ever. Because I would be so disappointed if I didn't make them proud."
Though Kunis kept tight lipped about her personal life and dating Kutcher, things are reportedly getting serious with the two.
According to report in In Touch, the Friends With Benefits star headed to Cedar Rapids, Iowa, to spend a long weekend with Kutcher's family. The couple though has not publically acknowledged their relationship is reportedly planning for a family together.
"They both love kids," an insider close to the duo said, "I think babies would come first before marriage because they both really want babies, and I don't know if he is ready to get married again."