Miley Cyrus Doubts if MTV VMAs Will Ever Call Her to Perform Again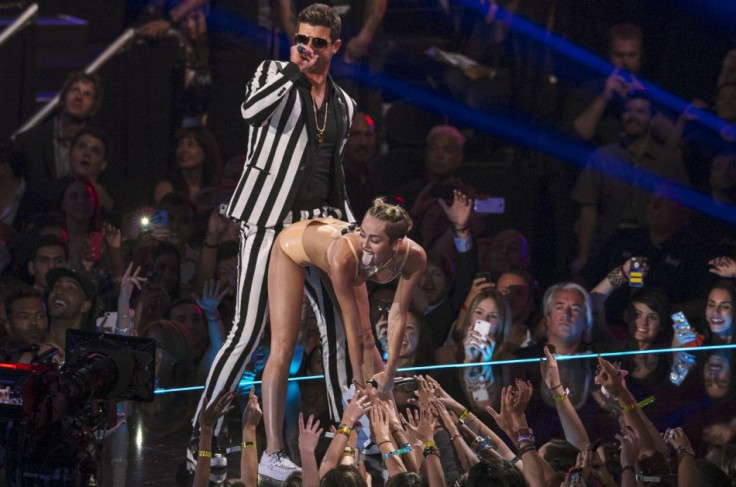 Pop icon Miley Cyrus is of the view that the biggest moment for her was the MTV VMA's performance. However, she doubts if she would ever be asked to perform there again.
"Everyone else's, I think, biggest moment of me was the VMAs. That was probably my biggest moment, too. I was pretty stoked to perform there," Cyrus said.
"I doubt they're ever gonna ask me back. But just kidding... I don't know," she added.
The former Disney star was once the face of family TV series Hannah Montana but her more recent public appearances, film and television roles and concert performances have been criticised as setting bad examples for young girl fans.
Her sexually provocative photoshoot with Terry Richardson also drew criticism as did her performance at the MTV VMAs with Thicke which led to some viewers demanding police action over her raunchy dance routine.
The controversy it sparked was humungous. There has been so much outrage over the performance and viewers demanded federal action over the raunchy dance routine.
Scroll down to have a look at some of the horrified reactions of viewers in their complaints.
"She made multiple very indecent sexual poses and gestures, from grabbing her crouch, using a foam finger like a dildo, and licking the butt of a stuff bear," one viewer stated.
"She has shown what she is acting like a devil flicking that tongue as deamons [sic] do. Being a Christian I'm taking a stand as these people push vulgarity,"a viewer from Kentucky stated.
"This was pure porn.... GOD HELP THIS NATION and those who desire to pump more filth into our living rooms," a viewer from Florida noted.
"Miley Cyrus needs to be detoxed from her behaviour, her clothing, her dance moves, and taught how to keep her tongue in her mouth. I suggest 12 months in a convent," a viewer from Arizona suggested.
"She bent over to rub her buttocks against Robin Thicke's groin which caused him to have a slight erection which can be easily noticed through his pants," another from Connecticut added.
© Copyright IBTimes 2023. All rights reserved.